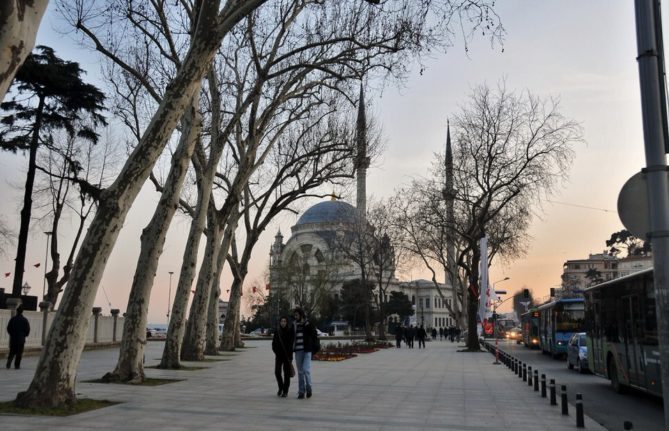 Istanbul
Where and How My Story Begins
By
|
My Story Begins, in Istanbul, at the Arasta Bazaar, traveling alone as a travel photographer, a solo female traveler wanting to offer travel advice, things like travel packing & travel tips. However, over time, my journey became much more than that.
My Story Begins
This story begins with my trip to Istanbul, but I have been to Istanbul many times. I love it in Istanbul. My travel keeps taking me back the way some travelers keep going back to Asia or Thailand. My family always teases me about this.
After I had been in Istanbul for work as a consultant, my friend Moses asked for my help in his shop for a few months. He just needed some advice. I had visited Moses and his shop several times before, during my summer consulting break.
Istanbul Is Social
What I found is that Istanbul is social. The Muslim religion seems social to me. My Story Begins, when I was working in Istanbul, That is when I visited the bazaars and realized how social the were. Because of Moses and his kindness, I was lucky enough to be invited to hang out at the market in Istanbul just like a local.
Social Real-life vs. Social Media
Life in Istanbul, at the Arasta Bazaar is social because the tourists visiting the shop love to visit and the Turkish people are friendly. Social in Istanbul means lots of chit chat and gossip. The people who work in the bazaar enjoy hospitality, interaction with strangers, and set a happy mood for visitors.
It's also social because the salespeople and the shop owners form a little community. Lots of gossip happens in the markets. There is also lots of Turkish drama. After all, you spend a lot of time waiting for something to happen in a bazaar.
By Moses
Moses' store sold natural-fiber handbags, scarves, and caftans. The name of the shop is By Moses, located in the Arasta Bazaar, Istanbul, just behind the Blue Mosque. I went to the shop three days a week. When I wasn't helping out there, I traveled to other places that were relatively close to Istanbul such as Cyprus, Nicosia, Southern Turkey and Romania.
Chronologically, this trip started a few weeks earlier in Southern Turkey. I will tell you about that in other posts.
By Moses in the Arasta Bazaar
Istanbul
This trip to Istanbul added, "a little Turkish drama" to my life. My days felt like "Under the Tuscan Sun," but with no guy in the story. I hoped to learn some Turkish, some common Arabic words, and help my friend.
This busman's holiday, so to speak, was my escape from reality. I wanted to relax and just have fun. How many people get to or want to hang out in a Turkish market? I was euphoric to live like I was Turkish person for two months. This trip hit my "pause button" and helped me hit my reset button.
Upon arriving in Istanbul, it seemed like any other trip
Except, there was lots more traffic!
My first hotel was a bust. I'd reserved my lodging from Booking.com. The hotel was clean enough. But it was a bust because the neighborhood had changed. My neighborhood wasn't safe.
The Neighborhood
The neighborhood around my first hotel had deteriorated because of the Syrian refugee crisis. Poverty in Sultanhamet was now living in the streets and more visible. Not that it hadn't always been there; it's just that the Syrian crisis and 3 million refugees had made it more obvious.
Second Hotel
My second hotel was charming and had a fab breakfast. But an Iranian guest – who kept arriving at three a.m. – woke me three days in a row, so I knew I was meant to move from Taksim. Taksim isn't my favorite location in Istanbul. Takism seems seedy.
It was clear that the Syrian refugee crisis was impacting all of Istanbul. Just think, in 1917, there were 1 million people in Istanbul. In 1971, there were 2.2 million by some accounts. Now there are 17-to-20 million people in Istanbul.
As of this writing, in 2015, about 3 million refugees are living in Istanbul. Turkish people from eastern Turkey are taking advantage of the refugee crisis by begging on the street. They milk the tourist sympathies, carrying signs saying, "Syrian refugee. Help me." Some put their children in the street to sleep and beg.
Back Story
I wondered, "What mother leaves her child on the street?" What's that family's backstory?
The truth is that the real Syrian refugees are typically working because Turkey allows them to work without restriction. Other countries like Uzbekistan, Iran, and Iraq, don't permit them to work without work papers. If caught working from those countries, you'll get deported if you don't have the correct documents.
Eventually, I found another inexpensive hotel with the help of my friend Moses. We found it by asking people he knew, people who owned hotels, and going door-to-door in a neighborhood that was safer.
How to Find a Cheap but Decent Hotel
What to look for in a good hotel:
Location
Cleanliness
Price
Value
Extra Benefits
Free Breakfast
No cost Airport pickup
Free WiFi
Quiet room
No smoking
My final hotel was the Agan Hotel.
It wasn't all happily ever after at the new hotel. Shortly after settling into my pleasant room, demolition began on an old building across the street.
This building was a historic building. It couldn't be torn down, so it was jack-hammered to pieces bit by bit, one section at a time. Sleeping past eight a.m. Monday through Sunday was impossible. The noise went on every day until eight p.m. each night, sometimes later.
Pick a place and call it home, don't hotel hop – unless you have to.
I loved my room at the hotel. For all of the problems, it was mine. I also found that the noise got me up each morning. It was quiet at night when I needed to sleep. No matter how humble, it was mine. My Istanbul.
My new routine was cheerful and went on like this until I had a day off. That is how my story begins.
Copyright © 2020 Capetown-Rio, Inc. USA. All rights reserved. Republishing is allowed only with written permission. All photography rights on this page belong to Capetown-Rio, Inc. and the author. Do you have a question, business proposal, or speaking opportunity? Please contact me here.