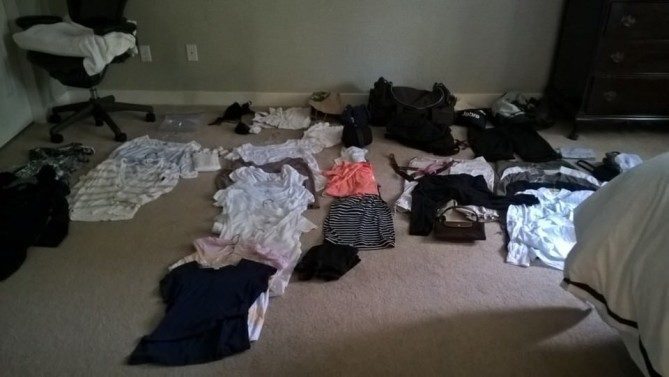 Female Travelers' Packing Lists
This page is a planning tool for female travelers. Here you will find all things Travel and your Travel Essentials: Female Travelers Packing Lists, Travel Packing Tips & Travel Planning.
Create your best packing list by country and seasons by using these travel tips. Pay attention to your basic categories or Travel Essentials. These Travel Essentials are your most important belongings to bring such as adapters, documents, tickets, clothes, backpack, and electronics.
You can't leave home without the travel essentials.
Packing Lists – Top 10 Tips – Do's and Dont's
Tip 1: Pack then remove at least three items before you go. Let's call it, 'Kate's Travel Rule'. I use it, and still I over-pack.
Tip 2: Your packing list should follow and include these simple things, clothing (one color plus black and white), accessories, toiletries, media equipment, power adapters, tickets, money, credit cards, and documentation.
Tip 3: Make a Packing List based on the country and season, pick a color plus black and white.
The most important Packing Lists tip I can give you is to consider the country and culture first, and then the season when you are packing. Putting these two factors together for Packing Lists will help you. Think through what you will need. Then, take a cell phone photo look at it.
Tip 4: Planning means selecting good people to work with on your trip.
Tip 5: Never travel with your expensive jewelry or anything that you might miss if stolen.
Tip 6: Don't stuff your bag. Leave room to buy gifts and things you want.
Tip 7: Sharing is Caring. Give Away Some of Your Things
Don't be afraid to discard or give away unwanted clothes when you are on the road.
Tip 8: Lighten your load from the road by Mailing a favorite item home if it becomes impractical to carry them any longer.
Tip 9: Buy your clothes there. People in the country will know where to get the most appropriate clothes for your location. Ask for their advice if you find yourself uncomfortable in any way.
Tip 10: Remember you carrying a bag is hard work, so keep it light. Packing Light is the Golden Rule.
How I pack – yes this is how I really do it.
Packing Lists Categories
How to Plan
Start by doing a generic search for cheap flights using one of these sites: Kayak, Momondo.com
Fine-tune your search based on the price of tickets and your flexibility
Make your first hotel room reservation Booking.com
You can decide on other hotels later
Prioritize and compromise on the activities you plan
Make a map with Google Maps
Use your airline frequent flyer miles and other travel vendor membership programs
Make a checklist — Plan where you want to go, what to see and whom to visit
Check off your steps as you finish the plan for each part of the route
Go to the doctor for shots
Check to see if you need a Visa
Your passport must not expire for minimum of six (6) months
How to Travel for Less
Look for the best time and least-expensive flights
Find the best accommodations for the best price in a safe neighborhood
Planning ahead brings only exactly what you need
Buy what you need before you go, but wait to buy what's cheaper to get in the country
…and add Two (2) Unlocked Phones
Full disclosure, I am a Windows OS person. I carry two smartphones with extra SIM cards. A universal calling plan and data plan on my phone from T-Mobile. Recently, I changed from Windows for travel because the apps are more reliable on a Samsung phone than my favorite Windows Phone. My Windows phone is my fav. Hopefully, I will use it as soon as the apps are available.
GMS works around the world, and in the USA, and sometimes my coverage is clearer and better abroad than in the USA. Know how to transfer your number to a new SIM and cancel an old one in case your phone gets stolen. Learn how to do it before you leave home from your computer.
My phone is unlocked. GSM SIM cards will work on my phone. I buy local SIM cards with data in most countries for cheap local calls. Lately, I haven't been using this. I use "What's up" app because I have the numbers I want to call, and they have mine, and it's FREE.
If you have great Packing Lists, we would love to post your ideas.
Please share your resources with us to help our readers. We love to improve and want to work and link to the best sites to help our readers.