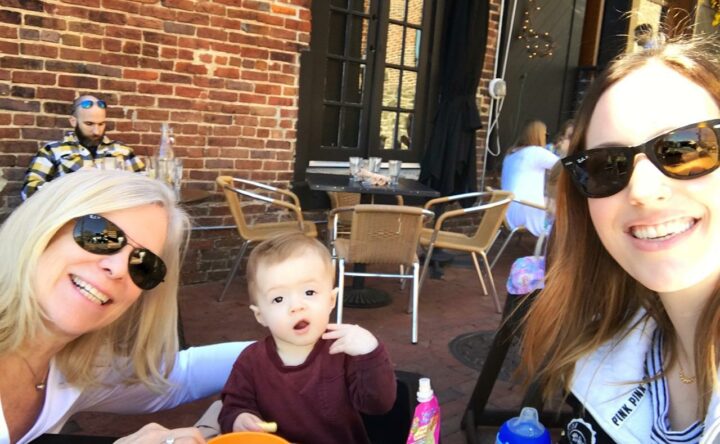 USA
Best Time is April to Visit Washington DC
By
|
When I go back to DC, I love to see something new. However, to do it with my daughter makes it even better. On this trip, we started with a walk along the Alexandria waterfront and had brunch. After we put Hudson down for a nap, KC's husband babysat and we went to DC to see the updated East Wing of the National Gallery of Art. Unfortunately, we forgot it was the last weekend for the Cherry Blossom Festival and it was crowded! Let me back up and tell you more about the whole day, the Smithsonian, National Sculpture Garden, American Indian Heritage Museum, Trump Hotel, National Mall, Capital and what we saw before our final destinations.
April in Washington DC
There is so much to do in DC that any of the places I will list would be great to visit. Spend a little time or as much time as you want. It is a great place to visit.
Virtue Food and Grain
We started with brunch in Alexandria at Virtue Food and Grain. We were seated quickly but got a very strange waiter. It seemed to me that all he wanted to do was push drinks on us. Virtue Food and Grain is a great location, but the food wasn't worth taking photos. On a positive note, my daughter's french toast looked delicious and she enjoyed it a lot. I had poached eggs which were running around my plate and my bread was a hockey puck. so our meal ended and we headed home for the second part of our day.
After dropping off Hudson for his nap, we went to downtown DC. In retrospect, we should have taken an Uber because parking was awful. Eventually, we found street parking in L'Efant Plaza.
Trump Hotel Drive By
As we were looking around for parking, we did a quick drive by Trump's Washington DC Hotel located in the Old Washington DC Post Office.
After Trump Hotel – we saw a lot of the famous sites looking for parking.
Smithsonian Museum
We drove by several of the Smithsonian Buildings. Check out the complete list of Smithsonian Museums here. One of the nice things about the Smithsonian's is that they are all free. Just spending time in the Haupt or Sculpture gardens and grounds, especially when it's sunny makes a beautiful day. However, sometimes there can be long lines to get into individual exhibits, so, check out the latest updates to find out if tickets are needed or if first come first serve is available.
Washington Monument
On the day we went, it was sunny and warm. Thank God there are food trucks along the street now because, without them, you would have a lot of hot and thirsty tourists with nowhere to eat near the National Mall. The first thing we did was grabbed a water from the smallest stand we could find so we didn't have to stand in line.
Big Bus
Big Bus – is an excellent way to get an overview of DC. You can hop off and hop on. My daughter said to me, "I think taking the Red Bus Tours are worth it when you are visiting a new town." I explained that her grandfather agreed and always rode them too. He loved them and wanted me to take them. It turns out that I make a habit of taking them. We learned something new, in our family, every generation loves the Big Bus tours, We hadn't known we all liked them until now. This isn't a big deal or anything but it's nice to know that no matter your age, the tours work for us. We all like the Big Bus.
Crazy Traffic
Here is the culprit of the traffic this weekend, The Cherry Blossom Festival." The National Archives didn't have long lines during the Cherry Blossom Festival. But, tickets were required.
The Washington Mall and The Capital
Picnic at the National Sculpture Garden
The Smithsonian, National Sculpture Garden was great; everyone was taking selfies.
Haupt Garden
Haupt Garden is lovely and even has a seed garden. The plants are labeled, so you will understand what you are looking at while strolling.This part of the Smithsonian feels nostalgic. I think the Smithsonian buildings around the yard are lovely and feel Victorian. It makes me think I will see parasols and women in fabulous dresses, gorgeous hats walking with men in top hats walking arm and arm.
American Indian Heritage Museum
Last but not least is the American Indian Heritage Museum. Love the shapes and the Northwest Totem Polls in front. Here are some other Travel Tips that might interest you.
Washington DC, Spring Means Cherry Blossoms!
Historic George Washington Masonic National Memorial
Best of Alexandria VA – Top 4 Sites
Copyright © 2017 Capetown-Rio, Inc. USA. All rights reserved. Republishing is allowed only with written permission. All photography rights on this page belong to Capetown-Rio, Inc. and the author. Do you have a question, business proposal, or speaking opportunity? Please contact me here.