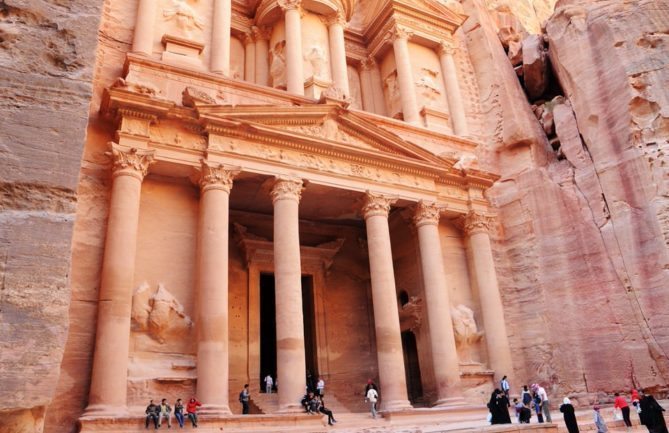 Katherine Green
Jordan
Indiana Jones and the Last Crusade Found in Petra Jordan
By
|
My favorite movie is – Indiana Jones and the Last Crusade. Petra Jordan is one of the locations for my favorite movie. Seriously this is one of the most spectacular places on the planet earth. I have been several times. My most memorable  trip is with Anas, my friend from Amman, Jordan. I went at night for a concert, several times during the day and every time I go, it continues to amaze me. Honestly, Petra is a must see destination, if it's not on your bucket list – I highly recommend adding Petra to your bucket list.
Petra Jordan – Indiana Jones and the Last Crusade
Anas took me to Petra. On our drive, he asked me a million questions about my world while we were driving from Amman to Petra. Talking in a car is a good place to have private conversations. But, our value for family and country are the same. Because of these shared values, even our world views are similar. As we drove, we had a great time learning about our differences and similarities as we drove.
Travel tip: Private conversations are best for these types of chats. Don't do it in public in Jordan.
Petra Jordan
By the time we got to Petra, I was ready to walk and explore the site. The site is about 40 square miles. To reach the site and go through the cavern, you can walk, ride a donkey or take a donkey carriage. Honestly, as I walk to the tombs. I think about how the ancient Petra people got water? You can't help but think this way in the arid desert.
How did they build this?
Why did they decide to build a city in the middle of the desert?
Who lived here?
Anas can see on my face, and I am amazed at the breathtaking location. To think Petra is a place unknown until the 20th Century when rediscovered by chance. I am blessed to be here with my dear friend. Grateful, to see such a fantastic location.
The View to Petra Jordan
Entering the gorge, I realize the magnitude of the site.
Frankincense World Markets and Moses
First of all, the location is remote but, because it was part of the frankincense trail. It was an important destination on the route. I never thought about Frankincense. Once, Frankincense was more valuable than gold. Isn't Frankincense one of those spices that 'the wise men carried as a gift?"
Yes, once Frankincense was a vital commodity. Petra is the Frankincense trade capital and supported the city. Frankincense is the reason for its existence. The people of Petra where Frankincense farmers. Lastly, Petra was the Frankincense market.
Bible tip: Additionally, Petra may have been where Moses spent years in the desert.
Water in Petra Jordan
As I walk through the desert and canyon, I think about water. There wasn't a drop of water.
Where did they get their water?
Petra developed hydro engineering because of Frankincense. Historians believe Petra engineers stored the flood water that came during flood season by building dams. Moses Wadi Rum was also a water source. From this water source, Moses Wadi Rum, the water flowed down to Petra. As a result of Moses Wadi Rum's water, Petra flourished.  Therefore, in its day Petra was an oasis.
Anas and I keep walking. I was astonished how without water, time had changed this region.
Where did the water go?
The water didn't just vanish. Earthquakes, unfortunately, destroyed the dams, so Petra died without water. Frankincense farming disappeared. All we now have of Petra are the remains of a once great civilization.
Majestic Tombs Over Power the Entrance to Petra
We enter Petra in front of the large treasury. Stunned at the size of the large carvings, we see tombs, huge magnificent tombs. Now, I am a Tomb Raider. Being here made me feel like I shouldn't be here. For me, it felt like I was disturbing the sacred grounds. Anas, how did they build the tomb? I asked. But, the building of the tombs are another story.
Entering a Tomb
Tourist Scams in Petra Jordan
As I left the building, some hustler greets me and asks if I want to be his girlfriend and do I want to have sex. Why is this happening here! Stupid hustlers, why hustle visitors here? For a moment the mood is ruined, but not for long. Anas tells him to get lost. We keep walking.
We keep walking.
Cave Home
We go into a cave home. Inside the one in this photo, Anas turns and speaks gently to me. He tells me that his grandfather lived in a cave like this. It is crazy to think that his family lived in this type of home, only two generations ago. This brilliant computer scientist's family lived in cave homes. As I stand, next to one of the smartest, kindest, brightest people I know, I realize how education moves people out of their past. Education takes people away from their family history. Education takes people out of poverty. Anas a brilliant software engineer, businessman, and family man. Therefore his roots, are deep. His roots are in Jordan.
As we walk, a boy hands me a blue and red rock. The boy, maybe about two or three, is taught to sell rocks to tourists. His sister collects the stones, and he sits and sells the rocks all day long. Nevertheless, this boy is learning how to survive. His education is beginning, this is his pre-school.
The night falls. Walking through more ruins, tombs and cave homes we chat. Eatting a late lunch, we talk about what we saw and experience. Both of us realize that Petra is one of the jewels of the world. Hopefully, it will remain untouched.
Copyright © 2020 Capetown-Rio, Inc. USA. All rights reserved. Republishing is allowed only with written permission. All photography rights on this page belong to Capetown-Rio, Inc. and the author. Do you have a question, business proposal, or speaking opportunity? Please contact me here.