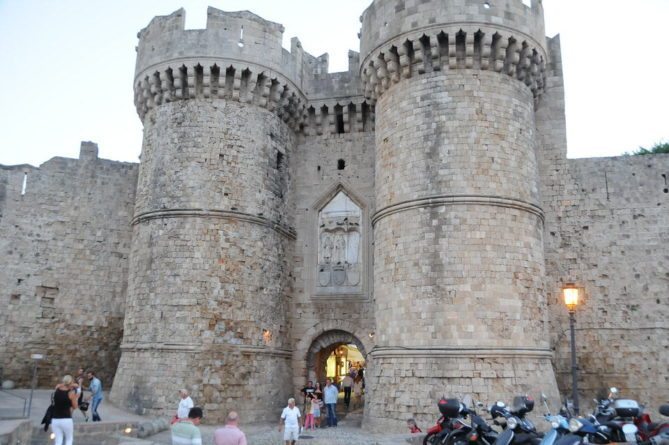 Feature
Easy Trip from Turkey to Rhodes Greece
By
|
To overcome my jet lag, I decided to try staying up for 20 hours by traveling from Seattle to Turkey to Rhodes Greece. The trip makes a long, long day, but it worked out well because I avoided my jet lag vertigo thing on this part of my trip. My jet lag was better than normal by staying up without a nap. Therefore, I believe because I kept moving even as I waited for my flight to Marmaris, Turkey, my jet lag may have been better than it usually is. So by staying awake, I think I learned How to avoid Jet lag by traveling from Turkey to Rhodes Greece.
My Easy Trip from Turkey to Rhodes Greece
When I arrived in Istanbul, I stayed in the airport terminal and waited for a flight to Dalaman, Turkey where I would take a taxi to Marmaris. I hired a car with a driver online for $45.00. The man met me at the Dalaman airport and drove me to Marmaris, Turkey, which is about 90 minutes away.
Keep Moving to Avoid Jet Lag
The Marmaris Hotel
It is about 11:00 pm when we arrive at my Marmaris hotel. The lady who works at the hotel barely says hi before she starts yelling at me about a $3.00 fee for air conditioning. I pay her the $3.00, and the man who works at the hotel shows me my room. Then the man asks me for the $3.00 of the air conditioning, so I pay him too. I thought at least I am going to get some excellent air conditioning. I have learned it's better not to argue about these sorts of things, who knows what will happen if you don't pay the $3.00. The room was clean, very inexpensive, and good enough since all I am doing is sleeping for a few hours before my ferry ride to Greece, which departs at 8:00 am.
Journey from Turkey to Rhodes Greece
The next morning after a lovely stay in my spartan room that looked like a monk should be living there, the kind man who asked for the second payment of $3.00 made me breakfast and a sandwich for the ferry. It paid off to make the extra payment! By taxi, it took about 10 minutes to get to the Rhodes ferry. At 8:00 am I board the ferry to Rhodes Greece, from Marmaris Turkey.
Ferry from Turkey to Rhodes Greece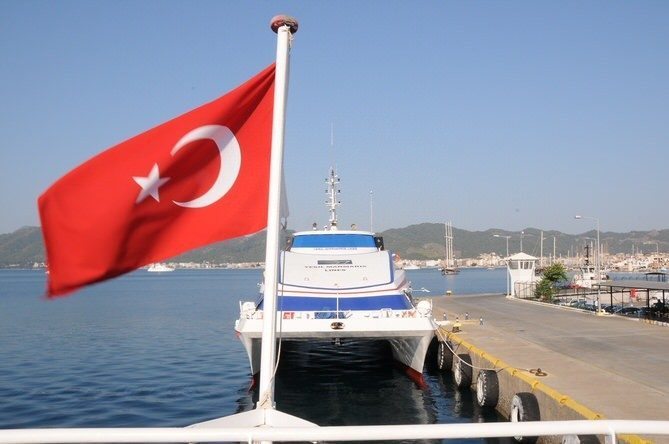 Turkey to Rhodes, Greece
From the Rhodes Ferry terminal, I go through customs and board the Greek ferry. There are lots of happy people on the ferry, and I ask if I could take a few individuals' photos. The ride goes by quickly, 45 minutes later we docked and walked through a little customs checkpoint into Greece. The crowded checkpoint full of seasick passengers who pushed through customs to reach fresh air and Rhodes.
Custom
There isn't a cleanup crew at the Greek customs area, so people gingerly stepped over and moved through customs. Both of my bags were on back, so they didn't get soiled by the mess. Thanks to God for carry-on luggage. Customs went smoothly, without any incident. But the smell of people and people being sick in a small space – well you get the picture. Terrible smells seem to make strong memories for me, and those memories are good ones.
Taxis
From there, outside the gate taxis were waiting for tourists. I didn't need a taxi – I was walking. However, lots of tourists use the taxi even though most hotels are within walking distance. Walking down the street, through the ancient entrance of the walled city into the old town of Rhodes, Greece my hunt for my hotel began.
If you want to learn more about the islands here is a brief history about Rhodes, Greece.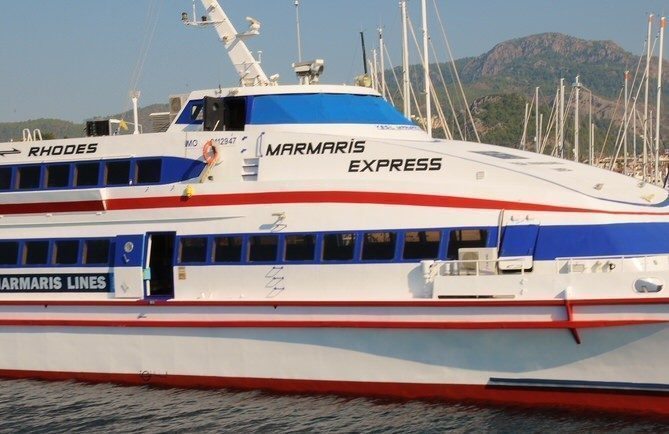 Turkey to Rhodes, Greece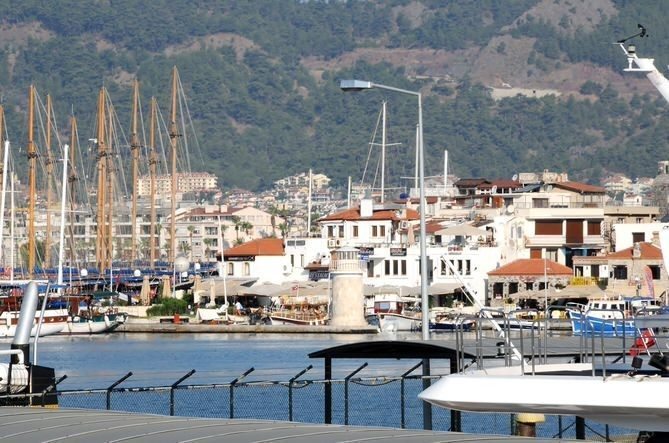 Passengers on the ferry from Turkey to Rhodes, Greece.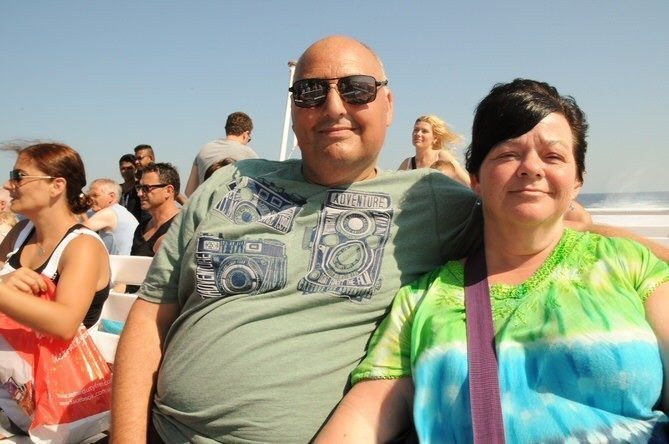 People from the UK. Everyone was happy on the Ferry – why not – they were on vacation.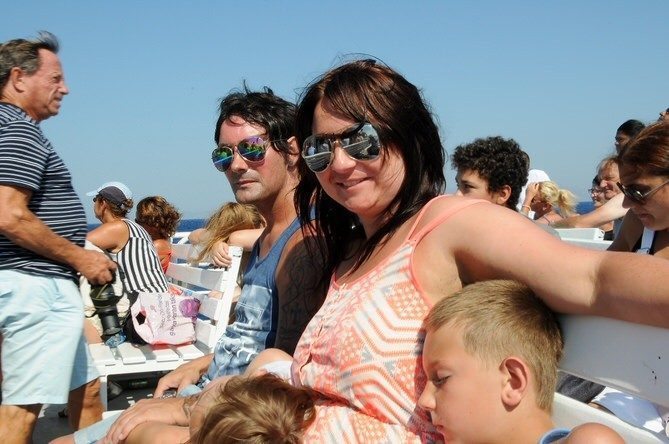 On my way to my hotel, I begin to feel a little strange and everything starts spinning. My vertigo is kicking in, and the walls began to move. The floor sways and I look for refuge. I see tables outside a restaurant, poke my head inside the restaurant and ask if I can sit down and have some tea.
Little Greek Restaurant, Nice Owner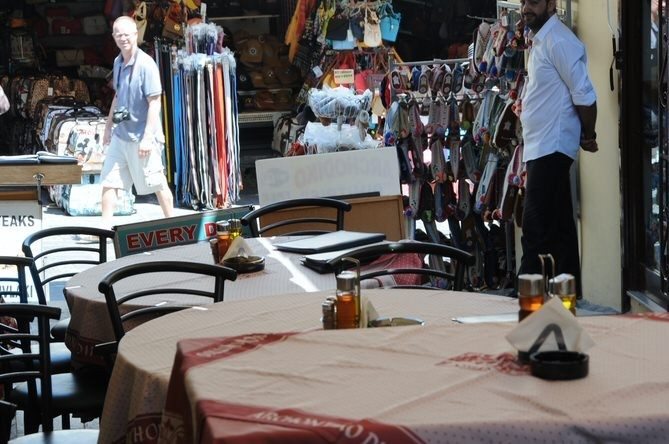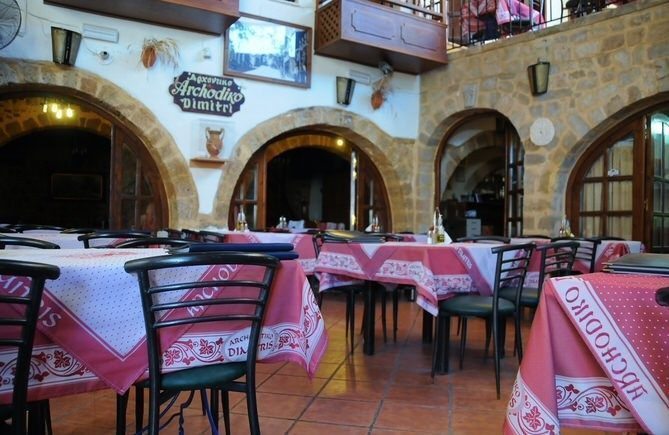 Greek Poetry
I met the friendly owner of the restaurant reading mythical Greek poetry, Atlanta. He serves me tea and asks me if I need help to my hotel I say, sure thing, thanks, I can use some help. (Always accept a kind offer for help when needed.) What is your hotel's name?It's called the Medieval Rose." (Medieval Rose Hotel, Rhodes Town, Dodecanese, Greece) Funny thing – it is the next building up the street.
We didn't have to go far, and he helps carry my bag to the orange front door of the hotel.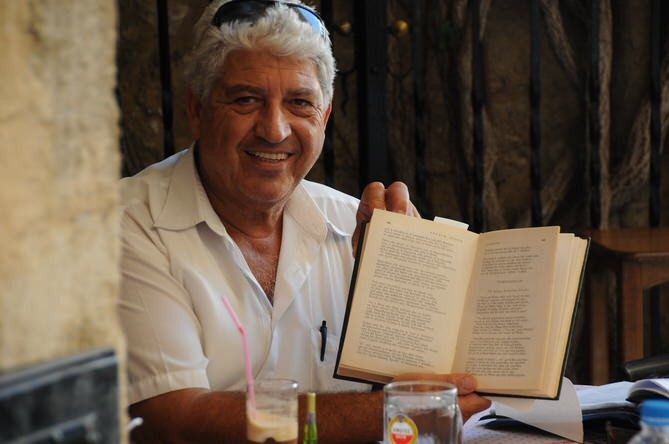 Here is the entrance to the Medieval Rose hotel. We walk up the street to the hotel, arriving at the hotel, we hear a loud banging noise.
Hotel in Rhodes Greece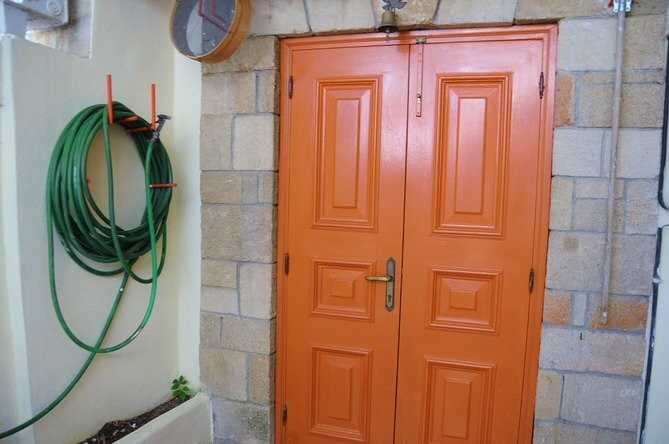 There is a small courtyard, and it is truly an old fashion Greek pension. It's not a hotel nor a bed and breakfast because they didn't offer any morning food, not even a coffee service. It is just a simple place – very Greek. The hotel is nice, although morning coffee would have made it better.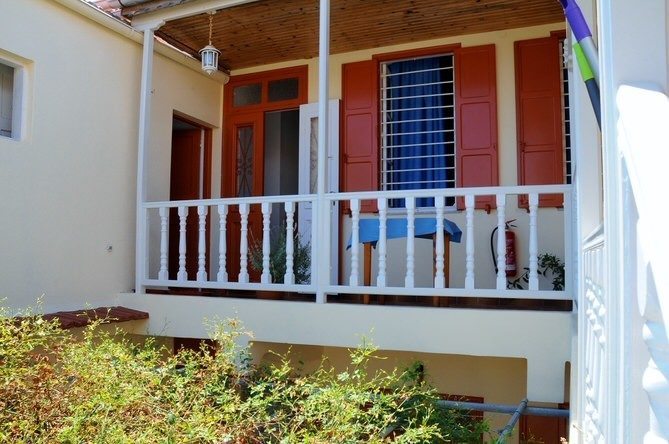 They said they offered coffee, but each morning they forgot to make coffee. I am really stuck on the lack of coffee.
The courtyard and the stairway lead to the second floor.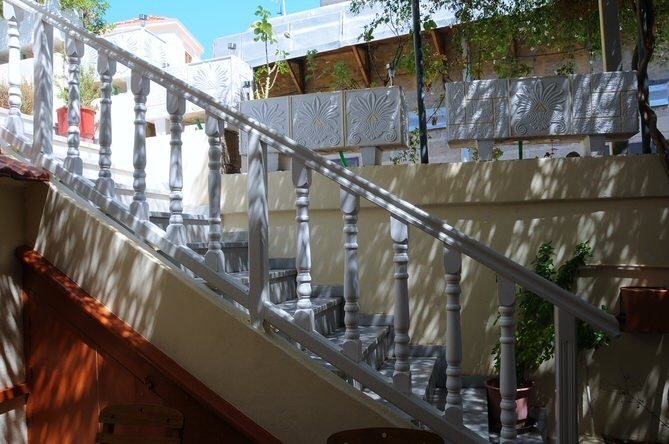 Ivan from Russia
I meet Ivan from Russia at my hotel; he is pounding and pounding on his hotel room door. He has just arrived and while he is talking to the hotel owner, his new friend that he found online and was traveling with went into the room, locks the double bolt from the inside, and promptly falls asleep.
The Commotion
Ivan had been pounding on the door for about an hour when I arrive. I come into the hotel as Ivan is yelling and pounding on the door with the Asian hotel owner scurrying around the hotel. I watch as the hotel owner goes to the window with metal grates and tries to get into the room, but that doesn't work. (we are glad that doesn't work.) I am still spinning with my vertigo and with the banging on the door, I was feeling pretty spacey.
Bejng the Observer
I sit and wait for something to change. I think the man from the restaurant leaves in between the banging on the door and all the commotion. Then Ivan says hi and I ask, "Are you ok?" He tells me the story of how he met his roommate/traveling mate and how he got to this point. I promptly hand him my journal and ask him if he would write down his story for me and suggest that he would feel better if he vented in my book. He seems to agree and writes his tale in English. (He is Russian and writes it in English).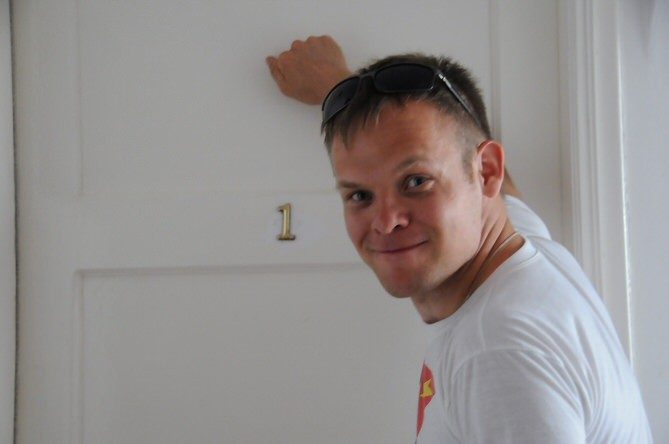 When Ivan has completed writing his story, I invite him to take a walk and see Rhodes with me. We lock up our gear and head out to walk around the old town.
Walking Through Old Town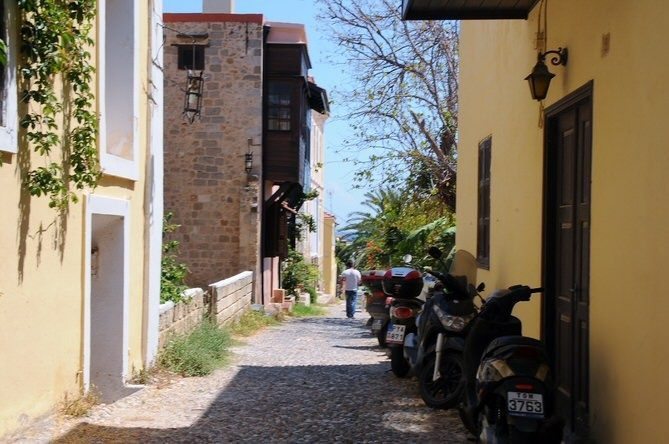 We see a Museum, and because it is a hot day, we into the buildings to find a cool place out of the heat. Ivan decides to keep exploring the old town, and I stay inside to see the museum.
The museum is called the Archaeological Museum of Rhodes.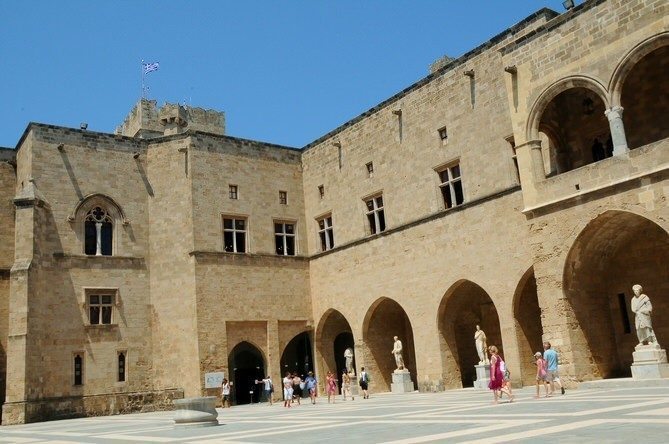 It is one of the best Medieval Museums I have ever seen and is as good as the ones in England or Italy.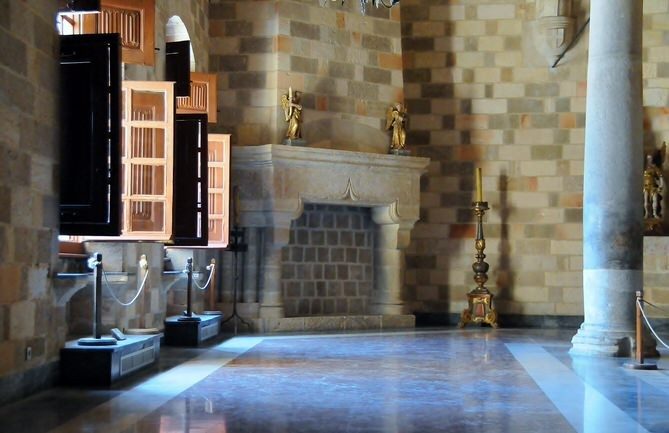 The museum has amazing mosaics floors. The exquisite collections are in perfect condition; the marble floors are well-polished, and everything is immaculate.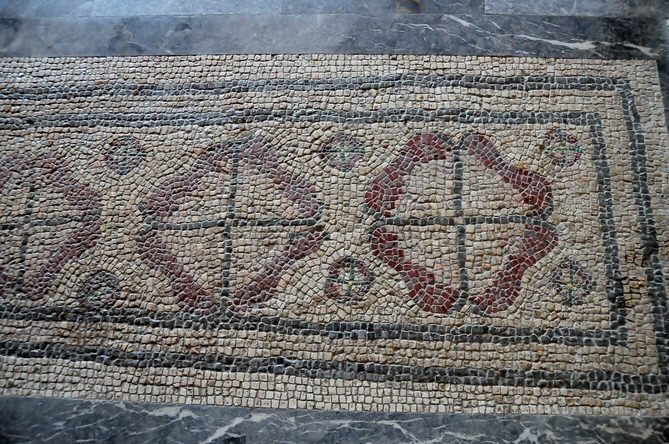 From the museum, I walk out onto a walkway that surrounds the city; it is the outer wall of Rhodes.
Architecture of Rhodes Greece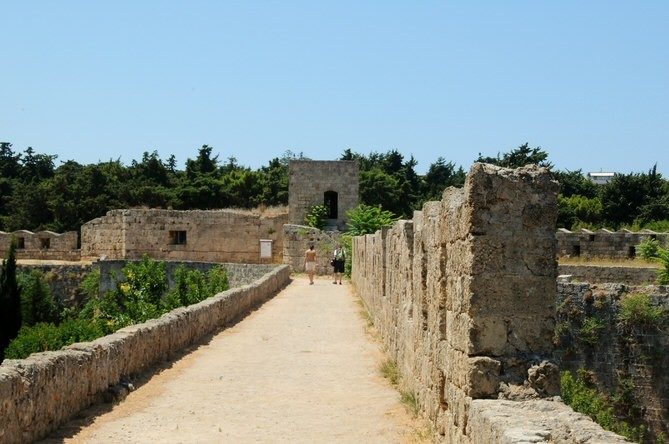 From there I turn around and see one of the old entrances to Rhodes. Amazing!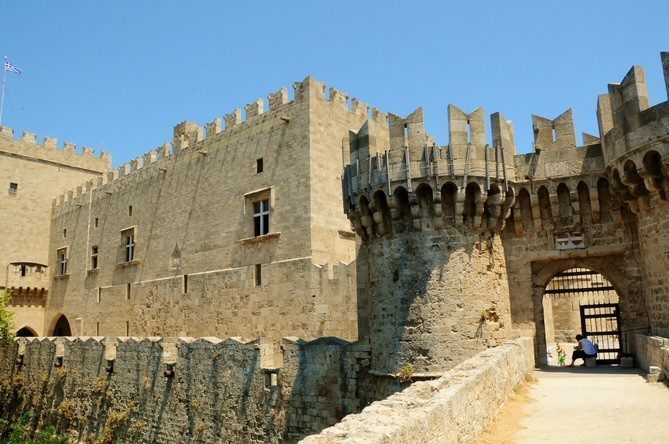 The architecture is lovely and captures all the periods of the people who have ruled this island.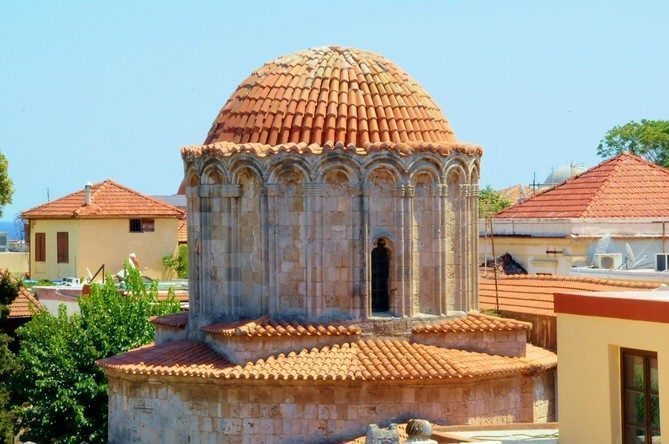 One of the old Basilicas of Rhodes.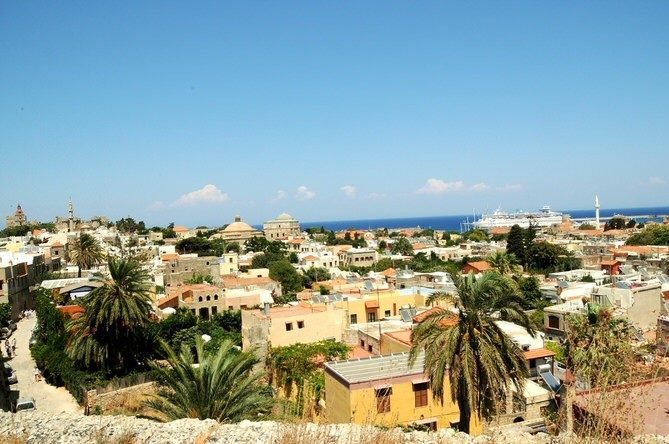 The view of the city from the wall surrounding the city.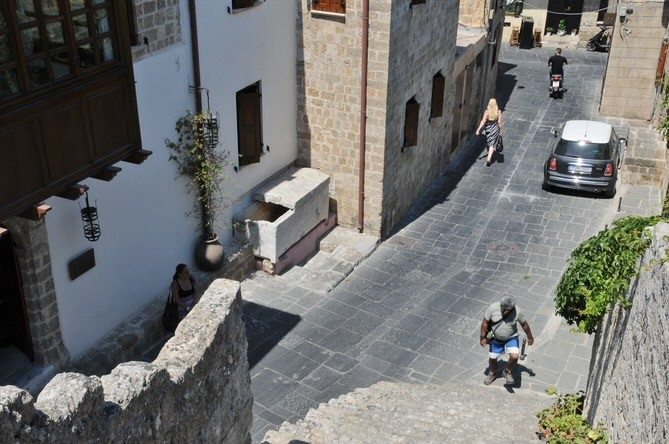 At the end of my walk, the walkway drops down into the old town of Rhodes, so I walk through the town.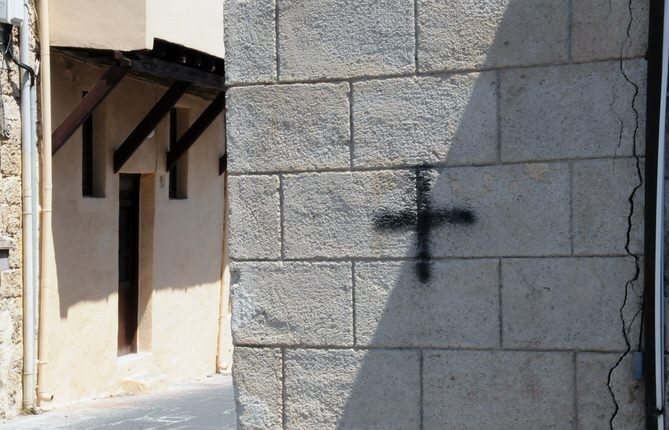 Since 75% of Rhodes is Muslim, I don't know if this symbol means the person is Christian, or the building is a church or maybe someone just tagged the building as Christian.
Street Scenes of Rhodes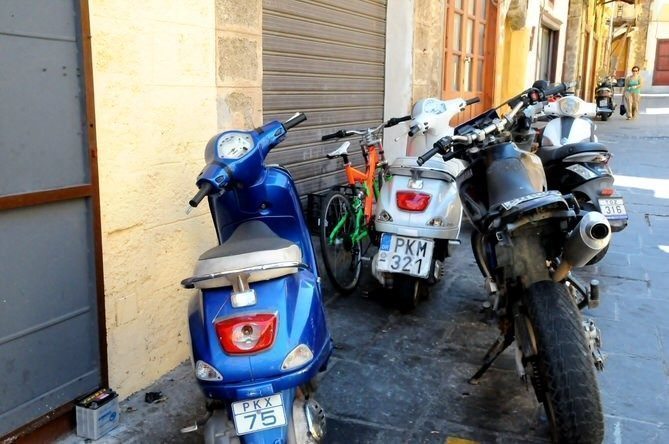 Past beautiful baskets of flowers, birds, and cafes.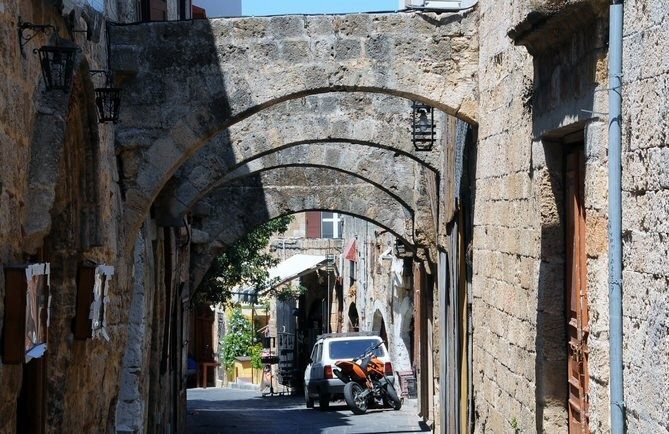 I come back out of the side streets into the main section of town.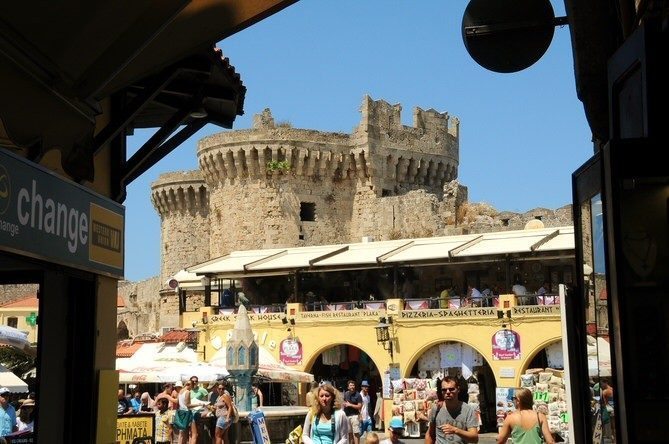 Local gifts and products are abundant in Old Town. There are loads stores, cafes, and street vendors for more food. But what strikes me is the simple smells of the market; the smell of exotic flowers that I can't identify and meat grilling. The sound of soft speaking people making a humming chatter, as motorbikes slowly go by, and laughter as people stroll. Rhodes is a relaxing place.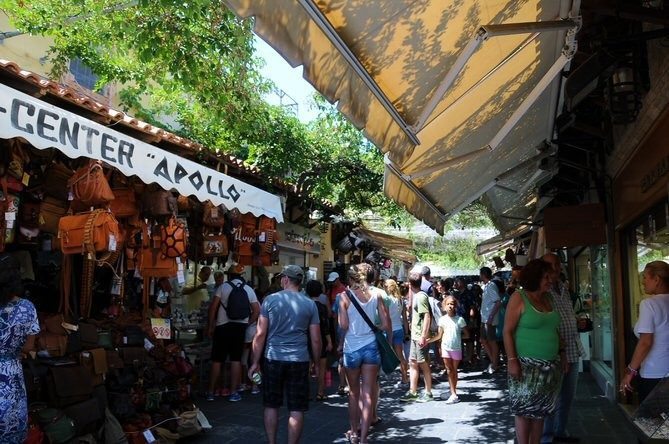 There are lots of shady places for lunch and tea or drinks in the old town of Rhodes.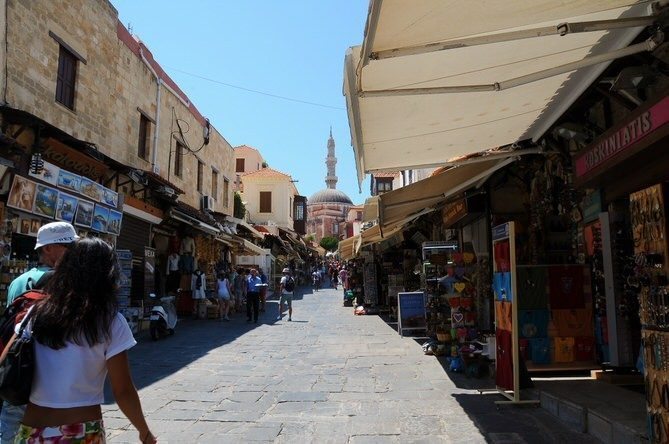 Sometimes the streets are lined with people and motorbikes.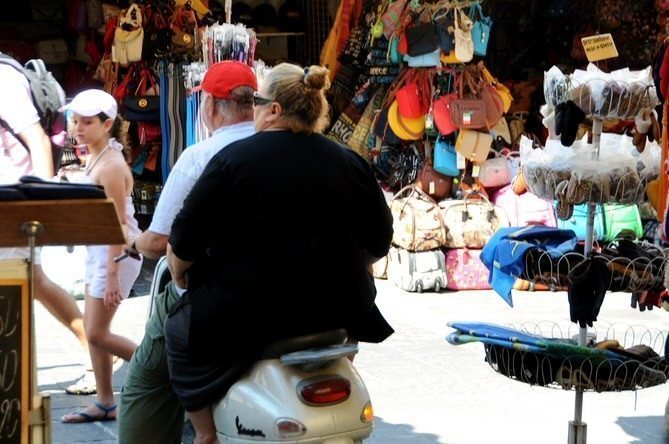 The Port of Rhodes
The old port is where the Rhodes Lighthouse once stood.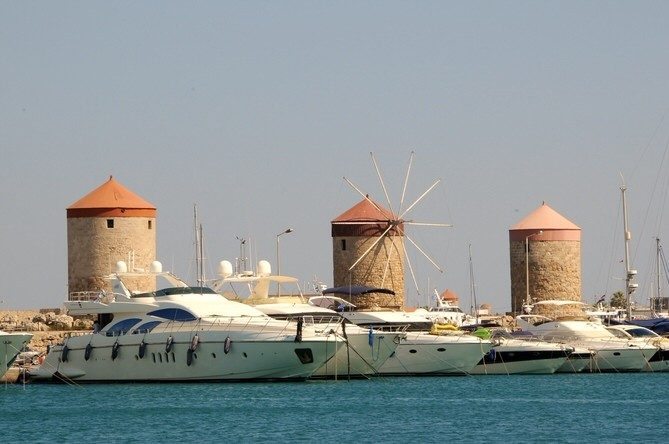 There are quiet places to rest and think.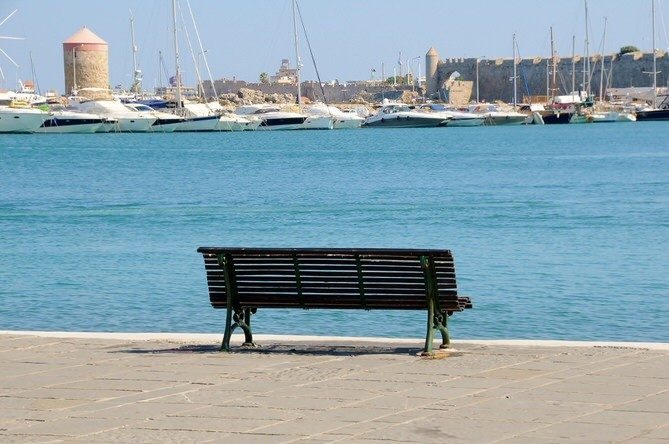 I notice a lot of single women traveling in Rhodes. My feeling is Rhodes is pretty safe for solo women and travelers in general, travlers 50+ and those at all stages of their life. But, always know travel has it's risks.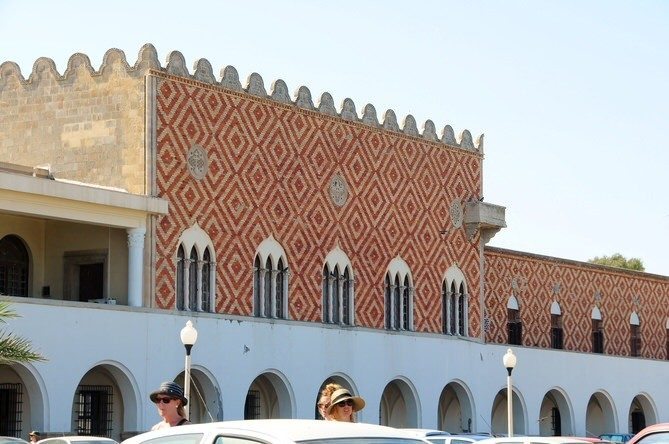 When I meet Ivan again, I find that he went swimming. He is standing on the street with a towel wrapped around his waist. "Hey Ivan, how did you get that suit and towel?" I asked. "I bought it, you know you can buy just about anything here in Rhodes."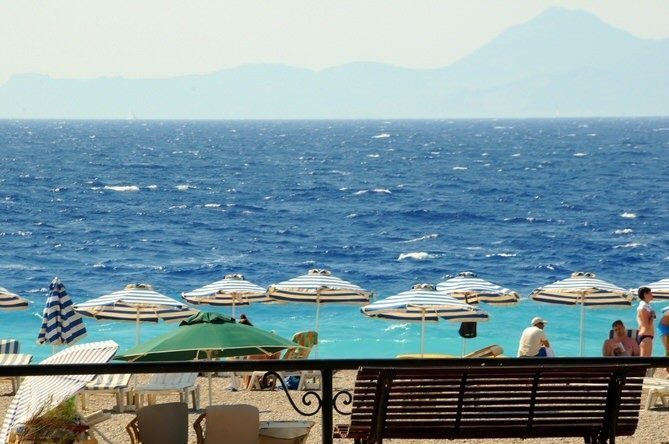 Back to more charming streets, Ivan and I walk a bit more before we head back towards our hotel. Rhodes is a little town, but take the time to explore all the side streets to see the most of this lovely city.
Rhodes, Greece is just charming and a must-see in the Greek Islands. Stay in old town if you can. My hotel was very simple. If you are ok with simple and want to save money, Medieval Rose might work for you too. There are lots of fancier places; check out Booking, com to find other places that could work for your budget and taste. You can't go wrong going to Rhodes.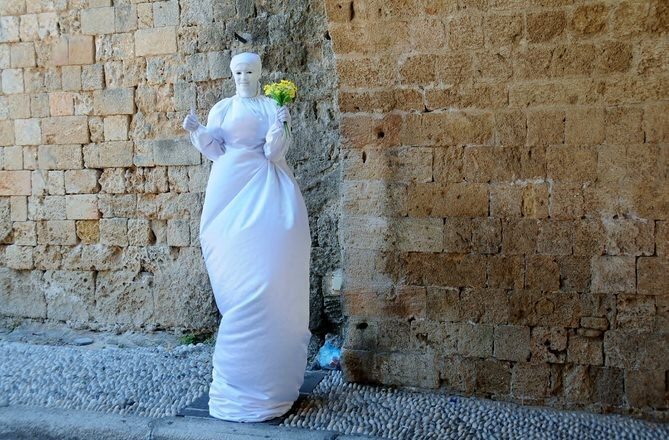 The Medieval Rose is near the Suleymaniye Mosque (Rhodes), or Old Mosque, which makes it easy to find the hotel in the labyrinth of streets in old town Rhodes Greece.
Copyright © 2020 Capetown-Rio, Inc. USA. All rights reserved. Republishing is allowed only with written permission. All photography rights on this page belong to Capetown-Rio, Inc. and the author. Do you have a question, business proposal, or speaking opportunity? Please contact me here.