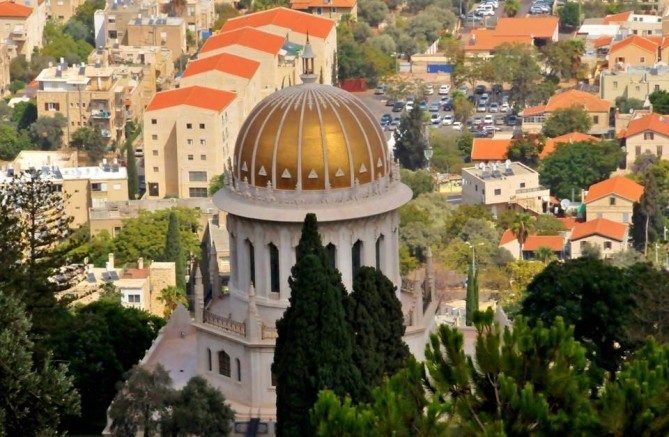 Feature
Visit Peaceful Haifa Israel
By
|
The Most Ideal Place in Israel is the port city Haifa, Israel on the Mediterranean is surrounded by picturesque hilltops and a charming village called German Town. German Town is home to the Knights Templers, Christian community. Haifa represents the best of Israel. I say this because Haifa demographics are Christians, Jews, Arabs, Palestinians and tourists from around the world live together here in harmony. Haifa reminds me of the uniqueness and potential of Israel.
Imagine a World Like Haifa Israel!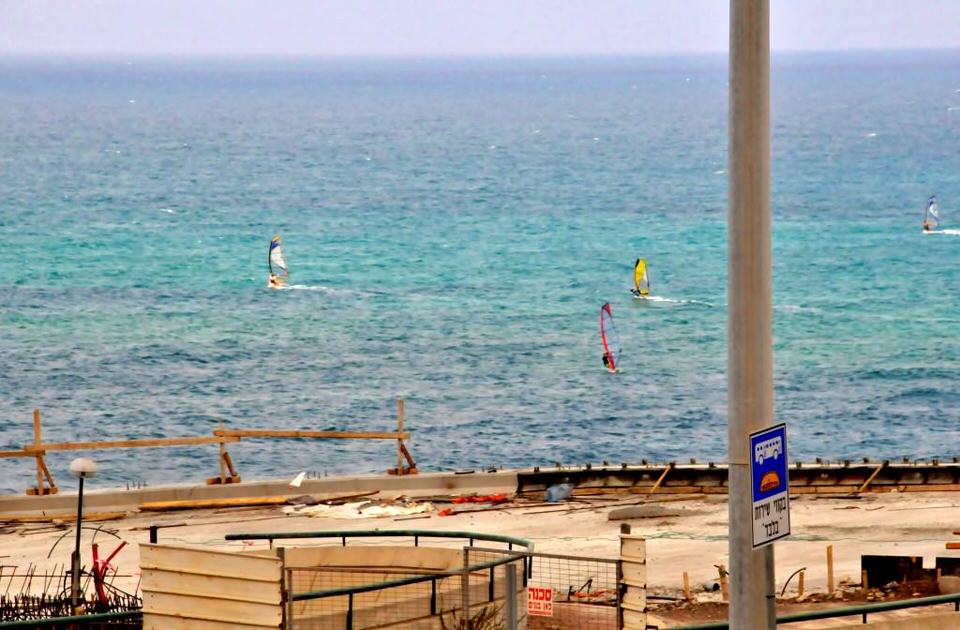 Haifa, Israel
Beautiful Haifa is the idealistic vision of what Israel strives to be. In this town, peaceful coexistence is not new. For centuries, Haifa's citizen have lived this way. The citizens respect the differences of the many religions in Haifa. People here respect each other's traditions and cultures. They work together and use it to benefit commerce. This peaceful co-existence is what makes Haifa, Israel a uniquely tolerant community in Israel. Some believe because this is home to a Baha'i Temple – the way the Vatican is home for Roman Catholics. Being the spiritual home of the Baha'i's might add to Haifa's serenity.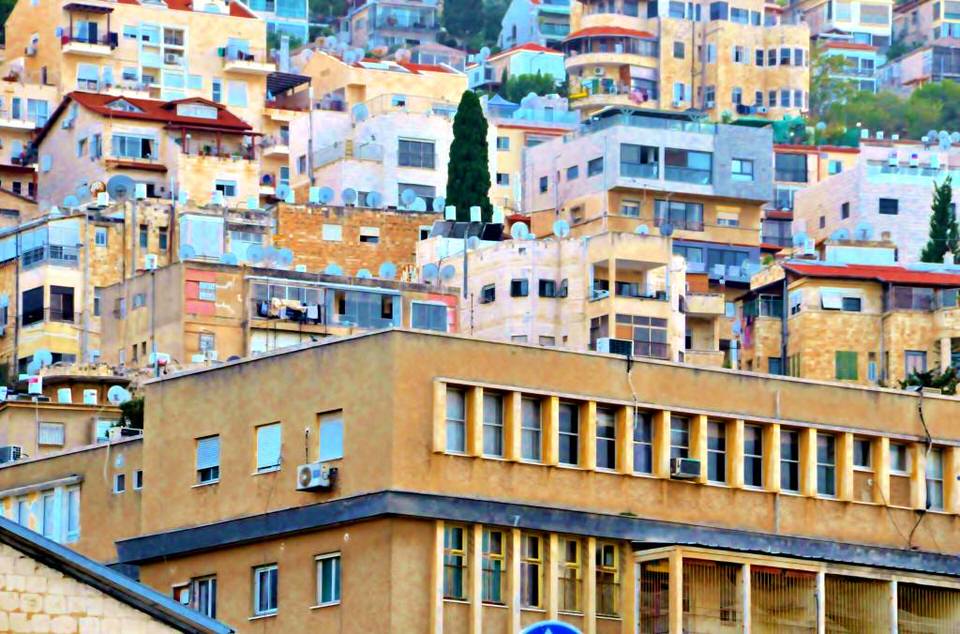 Haifa, Israel Is Idyllic And Peaceful
I can't explain or tell you why – but it feels uniquely peaceful. Haifa is the location of the Baha'i Temple, Christian and Jewish Mount Carmel and the Carmelite Monastery. It is also home to Elijah's Cave, noted in the old Testament in 1 Kings 18:42 and revered by Christians, Jews, Muslims and Druze. It was the Prophet Elijah's home and hideout.
German Town resembles a place you might visit in the United States. The German influence by the Knights Templers (German Town Tours) adds a distinctive influence on the architecture in Haifa. Most of the buildings with their distinctive red-tiled roofs and green shutters are standing today and protected by the preservation society. The restaurants and cuisine are as good as any major metropolitan area.
Haifa is an Arab, Christian and Jewish community the supports and promotes cooperation.
Jewish custom is that Jews don't work on Shabbat in Israel (and for that matter many American Jews observe this custom). More people observe this custom and practice in Israel than in the USA. Therefore, during Shabbat Christians do the work, the Jews are restricted from doing. Can we say that citizens who share economic and religious goals and who help one another achieve their goals, create a community that is more peaceful and harmonious? It would seem that is is the case in Haifa.
My Top Three Sites to See in Haifa, Israel
Arriving in Haifa
I came to Haifa at the beginning of Rosh Hashanah, the Jewish New Year or Day of Remembrance and Shabbat. The Bible refers to the holiday as Yom Ha-Zikkaron (the day of remembrance).
My Story about Haifa, Israel
I drove into Haifa in my tiny little car. then I parked it on the street, checked into my hotel and went to my room. My Hotel was the Atlas Hotel and the room was lovely and the best bed. I love comfortable beds especially when I am traveling. The Atlas Bay Hotel is friendly. The restaurant serves a delicious breakfast and fascinating guests.
The Door to My Room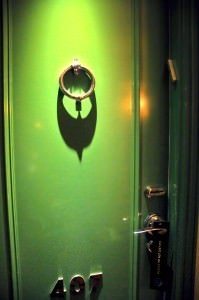 On the door, I see a Jewish hospitality and blessing emblem. The symbol is believed to bless and protect the home and to provide peaceful protection to the inhabitants. The emblem on my hotel room door is on the right side, on the door jam, across from the door knocker slanted toward the door.
After getting settled into my room, I went downstairs to the large living room where people were visiting with other guests and drinking mint and lemon water. I stayed for a few minutes, drank more water then took my camera for a walk.
The Atlas Bay Hotel was once the Ottoman Governor's residence. The hotel beds are luxuriant. My bed is my most memorable part of the Atlas Bay Hotel. Next, the courteous and personable staff treat you like honored guests and family. Their breakfast is a beautiful feast and an excellent way to begin a day of sightseeing and travel.
Along with my camera, I started wandering the city. I felt the city's rhythm, which was quiet. The minimal traffic and uncrowded streets made a very relaxed environment. Haifa is a typical upper-middle-class city. The city doesn't have the political tension of other Israeli cities. The streets had heartwarming scenes. I spied the local Salvation Army Community Center (in the picture below). All religions are part of the community.
Settling In – Walking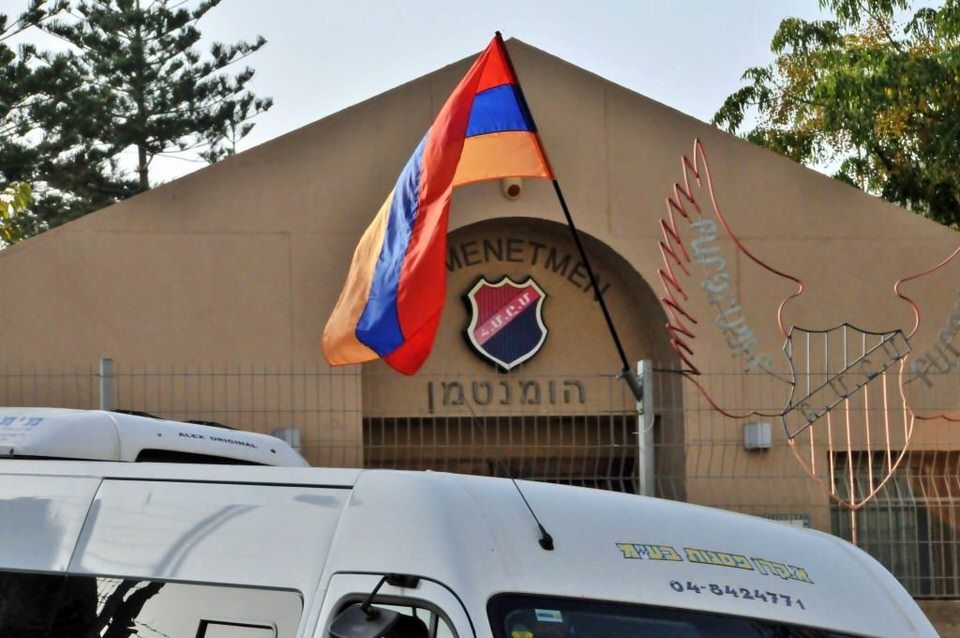 Graffiti on the Streets
Like most cities in Israel, you can find graffiti and Steet art.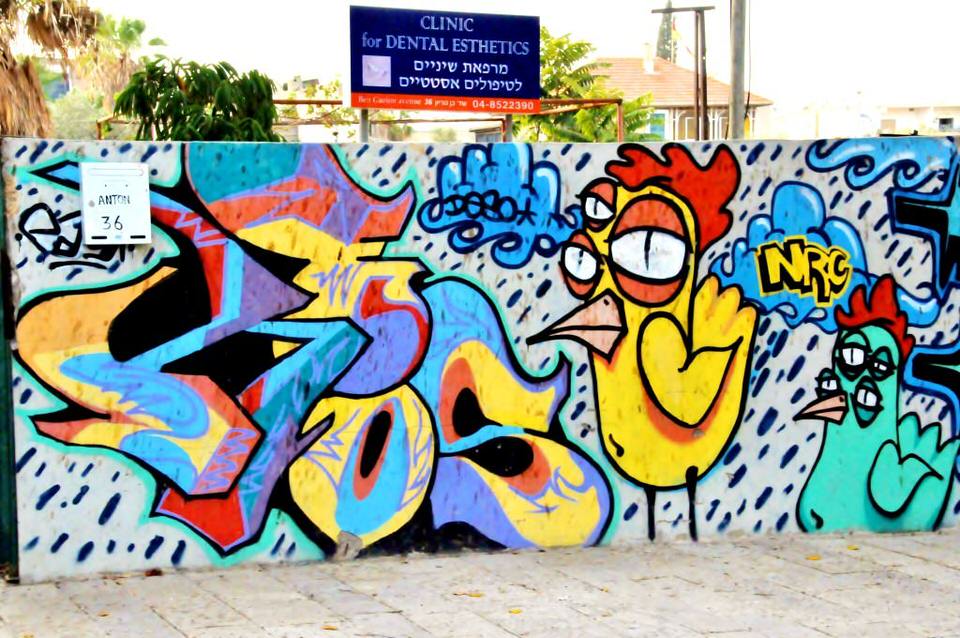 Community Center Supports the Three Major Religions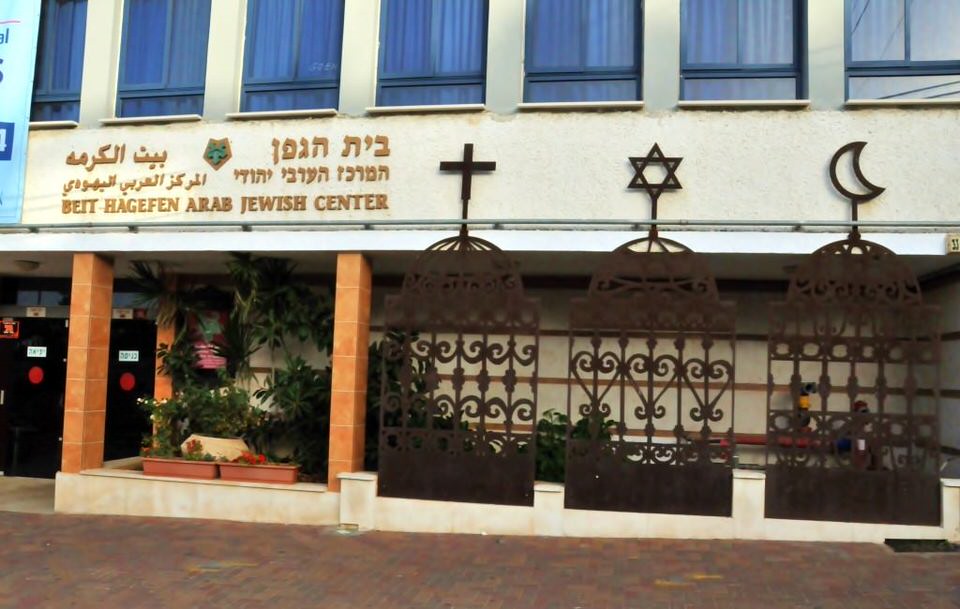 Restaurants
Street cafes and bars are romantic settings encourage social activities and evening gatherings.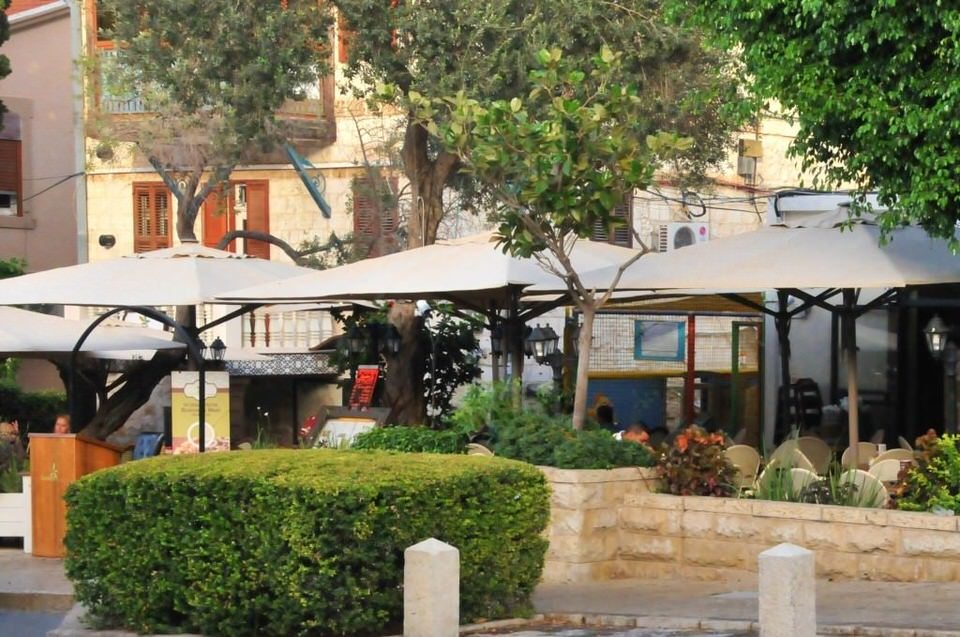 Restaurants in German Town, Haifa Have Fabulous Food!
Some kids on the street were being kids and teasing me. They wanted me to take their photo. When I tried to take their picture they hid. This is a modern hide and go seek game. This game went on for a while until finally, I got a picture of one of them. His buddy pulled his shirt over his head. The game is – they tease me and, I try to out whit them. Begging me to take their picture and when I did they hid again and again under their shirts.
I showed my photos to them and they ran off laughing. They are happy now, we played.

My Car Became a Character in Haifa, Israel
When I returned to my hotel, I went to move my car but the engine wouldn't turn over. The hotel staff explained that due to the holiday, it would be hard to get help and a jump for my car. It was the beginning of the Jewish Shabbat and Rosh Hashanah so no one could give me a hand if they were Jewish. When I called the car rental place.
Travel tip: Try calling the rental place if this happens to you. They sent a man to jump start the car. A few cars north of me another vehicle is making the same strange noise as mine. What are the odds of this was happening twice at the same moment?
A Car or Two Away
A few cars north of me another vehicle is making the same strange noise as mine. What are the odds of this was happening twice at the same moment? I ask the couple if they are having car trouble too? Then, I offer to help them. My mechanic assists the couple's car. The mechanic, an Arab Christian man, is glad to help. He jumps their car too. He thanks me for finding him extra work. As a thank you present, he offers to set my car radio channels to his favorite music.
For his trouble, the car repair man got paid twice. Once by my roadside assistance insurance and also by the lovely couple. A couple is Jewish. The weren't strictly observing Shabbat because they are driving. The couple thrilled to get their car jumped on Shabbat offers to take me to dinner. They anticipated being stuck at the hotel with no food for the night or until the end of Shabbat.
My good deed is repaid by the couples' invitation to dinner. I was happy to accept their excellent company.
Dinner in Old Town, Haifa, Israel
I join them for dinner and as I hop into the car, they introduce to their son who is joining us for dinner. They pick a nice restaurant after several couldn't seat us. Each person makes suggestions about what we should eat for dinner. The father orders fish and several dishes I had never had before. The conversation isn't about politics but art and buttons. He is one of the largest manufacturers of buttons in the world. He started his business because he wanted to be self-employed and he figured every garment needs buttons. Therefore, he became a button manufacturer,
At dinner, I'm invited to join them for sightseeing the next day. The father is going to stay at home so the mother and son want me to join them. I accept. After dinner, we go back to the hotel for Mint tea with lemon water in the lobby's living room. We chat, laugh and they tell me how they came to Israel. It is a fascinating evening. She tells me a very interesting story about coming from France to Israel Her resettlement and new life here was easy. I love visiting with the people I meet while I travel. I get to hear fascinating stories about life, survival, and perseverance.
Here is our day sightseeing. It began with the Bahia Temple and ended with Elijah's Cave, Haifa, Israel.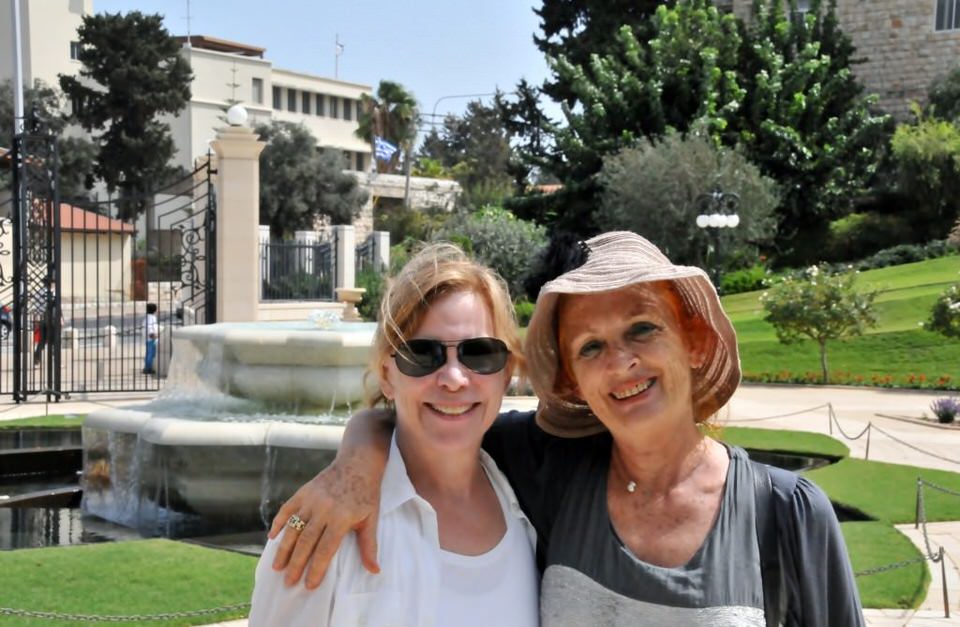 My Favs
My favorites were German Town, and the fountains, gardens, and panoramic views of the Baha'i Temple and Gardens.
I hope you have the opportunity to visit Haifa, Israel – it's a magnificent location and the best of Israel.
Copyright © 2020 Capetown-Rio, Inc. USA. All rights reserved. Republishing is allowed only with written permission. All photography rights on this page belong to Capetown-Rio, Inc. and the author. Do you have a question, business proposal, or speaking opportunity? Please contact me here.