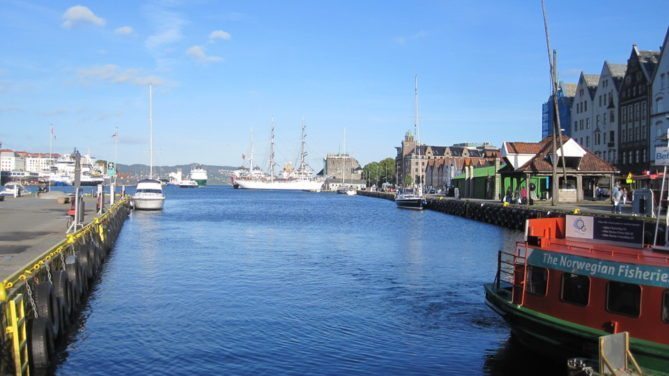 Guest Feature
The Frugal Traveler's Top 5 Sites in Norway
By
|
As a traveler like Kate, we share some things in common. We enjoy a good movie, book or hike. We both enjoy meeting great people when we travel and our friends at home. She likes things fancy and much fancier than I do. She splurges more than I do. But, I do splurge when I think it's worth it. But, we are both very practical. When she heard I went to Norway and stayed on my budget in one of the most expensive countries in the world – she asked how I did it. Amazingly, she couldn't believe it. She wanted to know my tips and tricks. Perhaps, you might like to know my thought and maybe others can use my tips and tricks to plan their best trip to Norway. Kate calls me, the Frugal Traveler, so here are The Frugal Traveler's Top 5 Sites in Norway!
Top Bergen Sites
You can find a list of places to visit in Bergen Norway, but I found Bergen to be a hiker's paradise. Bergen is surrounded by several mountains, to include Mt. Ulriken. Bergen is known as the city of seven mountains. My hostel, the Montana Youth, and Family Hostel was near the trailhead and only 7 kilometers from Bergen's town square. Talk about easy access to a world class climb. The hostel was cheap, and the breakfast was delicious. You can find my hostel at HostelWorld.com.
A twenty-minute bus ride for about 5 USD from Bergen's bus station will drop you almost in front of the hostel. You walk only five minutes before seeing the hostel on your left–the trailhead is straight ahead. You even have a choice of two trails–a steep climb or a more gradual climb. I opted for the steepest approach!
LILLEHAMMER IS A HIKER'S PARADISE
You can find things to do in Lillehammer here or do what I did. I took the train from Oslo to Lillehammer from Oslo's central train station. The journey is about two hours and follows the shoreline of Norway's largest lake. Lillehammer is surrounded by rolling hills. Above the bus station up the mountain is the Norwegian Olympic Museum. I walked about 30 minutes from the train station to the museum. Admission was about 13 USD. The displays were a comprehensive history of the Olympic Games from the first Olympics held in Greece to the modern day games. Uniforms, medals, Nordic skiing, flags from previous Olympic games are displayed in the museum. I found the museum to be fascinating, and well worth your time if visiting Lillehammer. There's a nice cafe at the museum to drop in and eat after the museum tour.
I also hiked along the shoreline of Lake Mjosa, the largest lake in Norway–it's over 60 miles long and reaches depths of almost 1500 feet. Its blue waters beckoned me from Lillehammer's main square. Hiking through the local neighborhoods to get to the lake gives you a better perspective of how the Norwegian people live.
A Frugal Fjords Tour – Stavanger, Norway
Booking your Fjords Tour can be done on the internet. I found myself in Stavanger, Norway, after arriving by train from Oslo. Walking along the harbor, I noticed a boat advertising fjord cruises. In just a few minutes, I paid about $40 USD and was on board. You can find this outfit's website here.
The day was cold, overcast and raw. The strong September wind numbed my face. A cold rain started to fall as we departed the Stavanger harbor. I could smell that fall was in the air. I was dressed for winter in Seattle and still felt cold. Nonetheless, I kept a stiff upper lip, for we were approaching the headlands of the fjords! I must say that the narration on this tour was excellent, accompanied by eloquent music. The boat cruised impossibly close to the fjord walls. At one point, the captain maneuvered the vessel into a small inlet gouged out from the rocky fjord wall. Looking straight up gave one an honest perspective of how majestic the fjords are–rocky walls rising straight up to dizzying heights.
Cheap Train Travel in Norway
Want to ride the trains in Norway? I found the train system in Norway to be top notch. The trains were spotless. The ride was smooth, and the scenery was fantastic. All and all the free Norwegian coffee you can stomach. The Norwegian engineers run a tight ship–trains are rarely late. Frankly, I think that Norway's train system puts our Amtrak system to shame. To save money, do what I did and buy your tickets ahead of time on the Norwegian website at nsb.no. The discounted tickets are grabbed quickly–don't let them get away. Ask for the tickets offered as "minipris," or discounted tickets and you'll save big. If you don't want to use the website, you can call them–I did. Don't worry, English in Norway is widely spoken.
I trained from Oslo to Stavanger. I left Stavanger and headed for Bergen. After exploring Bergen, I jumped on a KLM flight to Bodo.Why Bodo? Bodo is the end of the train line. I stayed at a hostel located close the train station. After hiking around Bodo, I left Bodo on the train and headed south. Upon arriving in Trondheim, I caught a sleeper car with direct service to Oslo.
The scenery en route is nothing short of spectacular. Mountains. Lakes. Rivers. Tundra fields. Small villages. Small mosaics of life is playing out in Norway as the train rips across the landscape. It's all there. Norway is indescribably beautiful.
Travel Tip: Norway's weather is highly changeable. Be prepared for extreme temperature changes. Bring a good selection of warm and cold weather clothing.
Here is my Norway Frugal Travel Itinerary.
Copyright © 2017 Capetown-Rio, Inc. USA. All rights reserved. Republishing is allowed only with written permission. All photography rights on this page belong to Capetown-Rio, Inc. and the author. Do you have a question, business proposal, or speaking opportunity? Please contact me here.