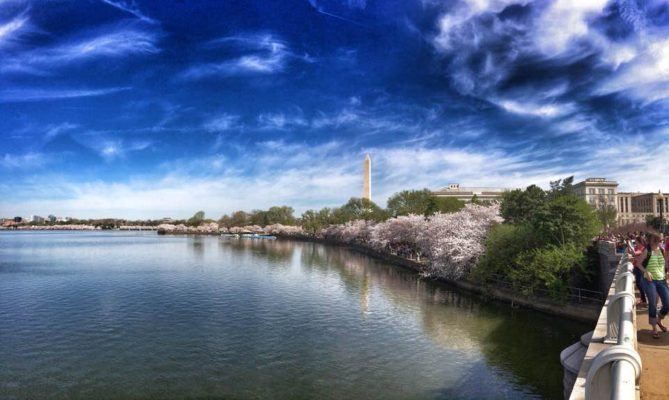 Feature
How to Best Experience DC's Cherry Blossoms
By
|
Spring Has Arrived! According to the National Parks Department: The Cherry Blossoms, WA, D.C. USA around the Tidal Basin has come to symbolize the natural beauty of our nation's capital city. The famous trees, a gift from Japan in 1912, signal Washington's beginning of spring with an explosion of life and color that surrounds the Tidal Basin in a sea of pale pink and white blossoms. The Cherry Blossom Festival is a great way to experience America.
The Cherry Blossom's Have Bloomed In Washington, D.C.
Now Is Peak Bloom and The Time To See The Cherry Blossoms
While the Tidal Basin in Washington, D.C. is always a beautiful place to visit, the beauty intensifies a hundred fold when the cherry blossom trees are in full bloom. And as you can imagine, the crowds flock to see them; almost one million people every year converge during peak bloom of these trees! The timing of peak bloom (when 70% of the trees are in full bloom) can be a little tough to time and plan for. It is dependent on the weather and the dates are constantly changing. If you are trying to plan a trip, be sure to follow the national park service for their updates.
Locals May Not See The Cherry Blossoms In WA D.C. USA
There are people who have lived in the D.C. metro area their entire lives and have yet to make the pilgrimage to the tidal basin and brave the crowds. I have lived here for almost five years and have made the trek three times. Is it crowded? Absolutely. Can it be stressful to deal with the thousands of people, all vying for the same photos? Definitely. Is it worth going, at least once in your lifetime? Without a doubt!

Patience is Needed – Cherry Blossoms WA D.C. USA
Making a trip to see the cherry blossoms in Washington, D.C. requires a bit of patience. As long as you give yourself some time to revel in the beauty, you can really enjoy yourself. Is your schedule more flexible? Try going mid-week during office hours. The crowds will be far thinner and you can take your time walking around the Jefferson Memorial and Washington Monument, maybe have a picnic underneath the trees.
Looking for ways to beat the crowds? Go to the Tidal Basin Early!
You'll not only be rewarded with beautiful light, the crowds are far smaller around sunrise. Be advised, you won't be competing with families, but there will be quite a few photographers competing to get the perfect shot all at the same vantage point. Getting there early also allows you to walk around the entire Tidal Basin with ease compared to mid-day. Sunset is also a great time to go, but there will still be large crowds.
Be Observerant
Even with all the crowds, it is such a great time to visit D.C. and seeing the cherry blossoms should be on everyone's list to see once in their lifetime. Sometimes standing in one place and observing can make the trip worth the time. Best of all if you go early you can take some great sunrise photos.
Copyright © 2020 Capetown-Rio, Inc. USA. All rights reserved. Republishing is allowed only with written permission. All photography rights on this page belong to Capetown-Rio, Inc. and the author. Do you have a question, business proposal, or speaking opportunity? Please contact me here.