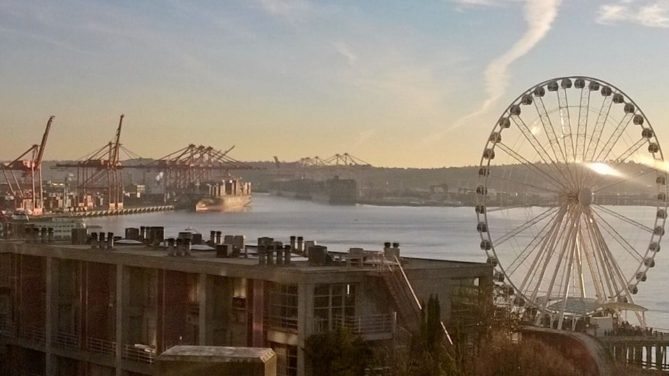 Feature
Back Home to Seattle
By
|
I booked a flight from Istanbul that left at 6 a.m.  Leaving my hotel at 3:30 a.m. to be there two hours before departure was tough but, I was going back home to Seattle. When my flight leaves this early, I always take an early morning taxi. Sadly, My Istanbul Trip Was Over.
After breakfast, I boarded the plane and felt sad to leave Istanbul. The flight quickly arrived in Amsterdam. After buying a few gifts, it was time to board again. Back home in Seattle, I cleared Customs and looked forward to being home soon.
Going Back Home To Seattle
Four reasons to take a taxi to the airport in Istanbul
Public transportation is closed from midnight to 5:30 a.m.
An early-morning taxi will get to the airport in the shortest amount of time
A taxi is inexpensive when the traffic is light (about 50 lira)
A taxi caters to your schedule
My preference is to take an early flight to help me deal with jet lag, but flying at this time only helps a little bit. Nothing helps with my jet lag. I get jet lag badly.
When I land, it's usually still daylight outside. For me, I think staying up and suffering through the first day is the best solution for getting over jet lag. The first few days are long. I try to get a lot done when I return. For me, it helps with my transition back to another time zone.
People ask me, what's Seattle like?
I love Seattle. It's a port city with plenty of lakes, and Puget Sound. We have Lake Union, Lake Washington and Puget Sound. The natural beauty surrounds the city. Lakes, Puget Sound, and mountains for hiking and skiing all in a short distance.
There are two mountain ranges and Mount Rainier in the distance. Mount Rainier can easily be seen on a clear day. We have lots of rain and beautiful clear blue skies when it's not raining.
There is a lot of water around our city and suburbs. We have lots of bridges and terrible traffic.
The temperature in Seattle is moderate in every season. We have seasons. Our leaves change colors in the fall, to yellow, orange and red. We have lots of technology companies here.
Washington residents buy more sunglasses than anywhere else in the world because we are always losing them due to the frequent rain and only occasional bright sun.

Here are some of my favorite things about Seattle:
Seattle has a fleet of state-run ferries
Seattle has a huge downtown open-air and indoors market, known as Pike Place Public Market
Pike Place Public Market is a functioning market as well as a place that tourists like to visit
We eat lots of fresh fish, available at Pike Place and many other establishments
Fresh produce, flowers and local products are all available at the Pike Place Market in Seattle
Seattle has great sunrises, sunsets and many bodies of water. Seattle is water-locked. We have lots of bridges, lakes, and we are surrounded by Puget Sound, therefore, more bridges and back traffic.
Copyright © 2019 Capetown-Rio, Inc. USA. All rights reserved. Republishing is allowed only with written permission. All photography rights on this page belong to Capetown-Rio, Inc. and the author. Do you have a question, business proposal, or speaking opportunity? Please contact me here.