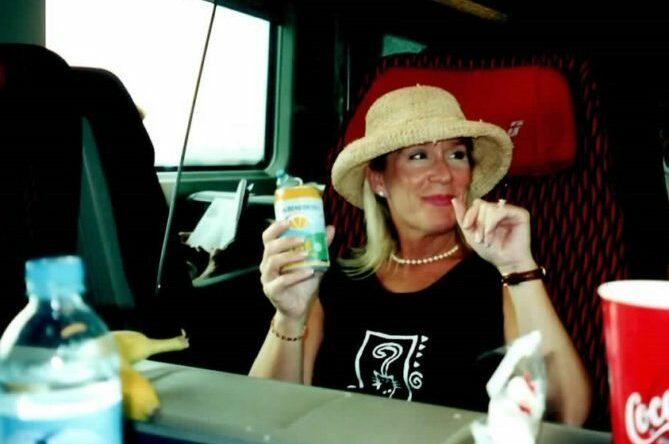 Michele Bunn
Feature
A Story About Traveling with Mom
By
|
For our Mother's 70th birthday, my sister and I took our mother to Italy for ten days. We decided on Italy because I was familiar with it. Mom and my sister Denise would both love Italy. Denise had never been to Italy or Europe. I looked forward to showing both of them a country that I loved and to sharing  fabulous restaurants, hotels, and shopping places.
Traveling in Style With Mom
To begin our journey, Mom and Denise came to Atlanta and stayed the night at my house. We wanted to be together the day before leaving to make sure we had all our plans ready. 
We were flying from Atlanta the following afternoon. I was still packing and shopping for the trip until the last minute, and it was great having my sister and Mom to help. The limo picked us up in the late morning so we had plenty of time at the airport to be ready for a long trip.
This is the way to start a special birthday or vacation. Yes, it cost us a couple of hundred dollars extra on top of the tour, but starting the tour with a limo pick up made the trip extra special for all of us and more memorable to start off!
Business Class Only
After researching the best tour for the three of us, we decided on Perillo Tours. For us, the ten-day lightly structured Italy tour was perfect. The appeal of this tour was that we were able to see the main tourist sites, most of our meals were planned, yet we had the flexibility to explore restaurants or eat in. We had free days to explore and shop. Luxury hotels and first class service was part of the trip. After all, my mother is 70 years old, and we didn't want her to feel pushed too hard!
We had business class tickets on British Air (points came in handy here), so our travel was very comfortable. After a couple of glasses of wine and some good airline food, we decided to sleep so we wouldn't miss a beat when we got off the plane. I always bring a good book, so I read while everyone slept.
We've Arrived in Venice
Upon arrival, we still felt tired, and thankfully, we cleared customs quickly with the help of our tour company, and the only thing we had to take care of was getting on the right bus to our first water taxi to the hotel. We had arrived in Venice.
Because we had arranged for a 3-person suite, we had a lovely tower room in the Danieli Hotel. It was a very cool suite; each room was individually private, and we shared the bathroom and a small sitting area. Of course, our large suitcases barely fit in each room, but somehow we managed.
St. Mark's Square
We went out to St. Mark's square and walked around to the cafe's and small shops and vendors. I'm not a person who likes pigeons, and having so many pigeons in one place was not to my liking. I would not eat outside for that reason in St. Mark's square. With the tour group, we visited St. Mark's Basilica and also took a tour of the Murano Glass Factory. Murano was impressive and of course, we bought items to bring back home.
Now it became evident we should have brought less and planned to bring more home. We also splurged and took a gondola ride and had a ball! The gondola drivers are flirtatious and fun and love to sing and make the women feel special. What a once-in-a-lifetime treat!
On the Way Out of Venice
The day we left Venice, we had a fabulous breakfast in the rooftop restaurant and enjoyed the view of Venice from a high vantage point. My sister and Mom were not accustomed to cold meat with their breakfast. The meat looked like a cold cut platter you would expect at lunch, but Europeans eat their cold cuts at breakfast. No Dunkin Donuts or Krispy Kreme for breakfast in Italy.
On to Florence
Florence is my favorite city in the world. The people are joyous, engaged, happy, and good looking. The city is beautiful, and the shopping is easy and convenient and will fit anyone's budget. We haven't even touched on the art and the art students and sculptures and beautiful churches. In my mind, with every turn in Florence, you are looking at art.
I was excited to get to Florence and to share my love of the city with Mom and my sister.
We took the train from Venice to Florence which is a nice way to travel.
We stayed at the Villa Medici Hotel. Staying at Villa Medici was my only disappointment about the trip as I would have preferred to stay at the Hotel Bernini. The Bernini is very friendly, helpful to single travelers, accommodating to female travelers and staying at the Bernini makes you feel like you are staying with friends. But, we were at the Villa Medici. Our rooms were typical hotel rooms, and while we had a larger room to accommodate the three of us, it felt more like they just stuck an extra bed in for another person.
Thankfully, we were not planning to stay in the room much.
Mid-Afternoon
We arrived mid-afternoon, and we coaxed Mom to join us for wine and a light snack before getting ready for dinner. Three women in Florence can go through a bottle of wine quickly, so we decided to have another. We were drinking an excellent Pinot Grigio and talking and laughing. Our table was on an outside terrace shaded by big trees and beautiful fountains with Italian tiles. I remember this little snippet of happiness and contentment to this day.
I was anxious to get to the shopping and decided to go out on my own while they got ready for dinner. My favorite shopping is the "Straw Market" on the Piazza Il Duomo.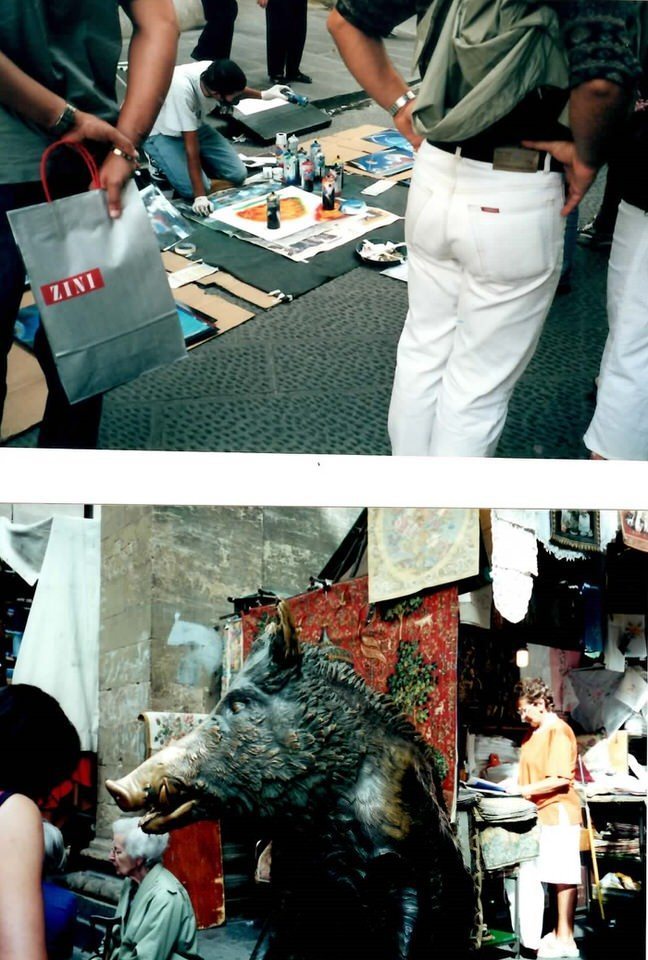 But I was too late in the day for good shopping there. I did stop into my favorite cafe on the Piazza to get an espresso (decaf).
Florence is famous for many sights, the most famous of course being The David. We went to the location of the David, called The Academia and I was amazed at all the other sculptures that were on display. My photos do not do it justice, so look at the link! Take a look at Academia Gallery. We visited cathedrals like Il Duomo, the Uffizi Palace, and Gallery, the Pitti Palace and by the end of the day, we were beat!
A Free Day in Florence
We didn't have any scheduled tours on this next day in Florence, and we decided to have a great lunch, do some shopping and have a leisurely day together. The three of us had a blast that day! Before lunch, we shopped at the Straw Market, this is off the square close to Il Duomo and bought several items as gifts. My sister bought some shoes and a matching handbag at a local store. Florence is a great place to buy all sorts of leather goods from shoes to handbags to apparel. At lunch, after the first bottle of wine, we met Mario from the Ponte Vecchio leather shop.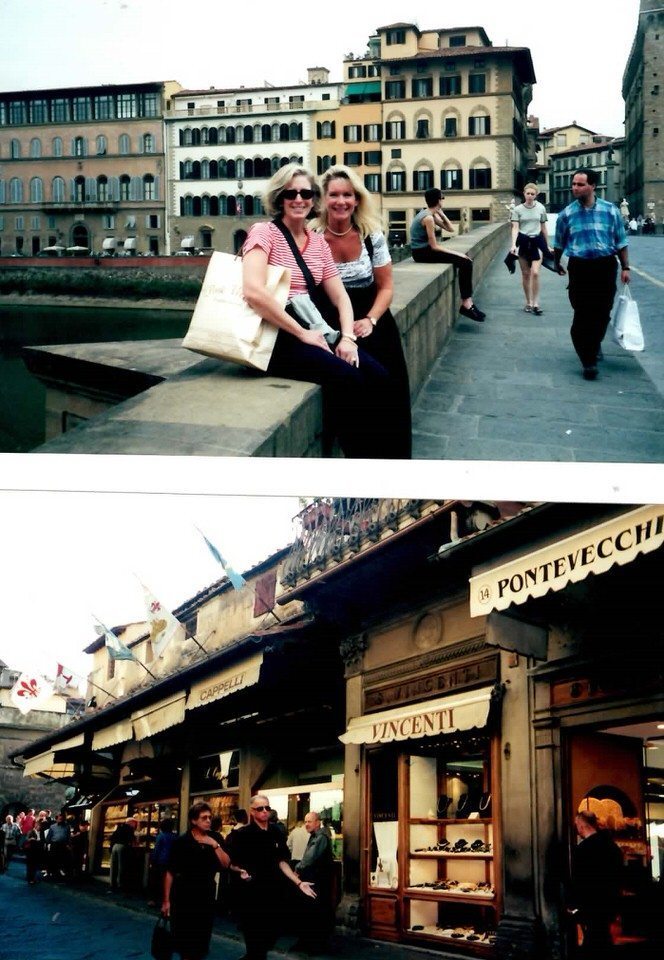 He was gorgeous, and we were all ready to buy leather! After finishing lunch and the second bottle of wine, we headed to his shop to be custom fitted for leather jackets.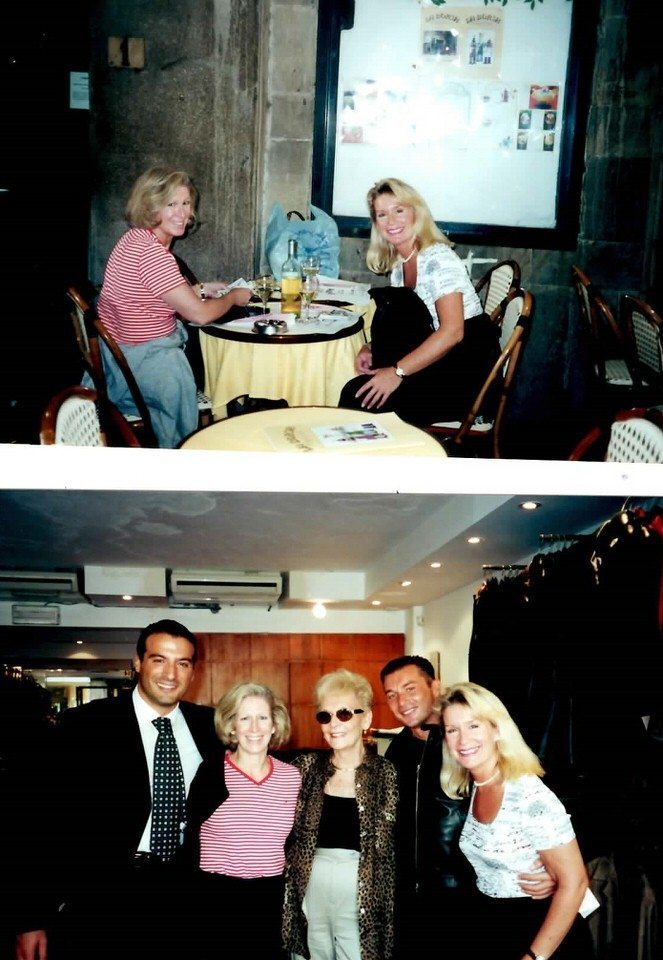 As you can see by the pictures, we had a great time at the shop. Our jackets would be shipped to our homes when they were finished. We also bought some gold jewelry at another shop on the Ponte Vecchio. Great prices on Italian gold in Florence. We had dinner with people on our tour and as always, the food is fantastic in this part of Italy.
Sadly, we had to leave Florence the next day. I could have stayed for at least two more days, but we were on to Rome next!
Three Coins in the Fountain – Rome
One of my favorite old movies is Three Coins in the Fountain, a 1954 film about three secretaries who travel to Rome. After throwing their coins in the Trevi Fountain, their dreams of love come true. We three headed to the Trevi Fountain with our wishes and coins in hand. (the photo is dark, but we have just thrown in our coins!). The Trevi Fountain is very busy!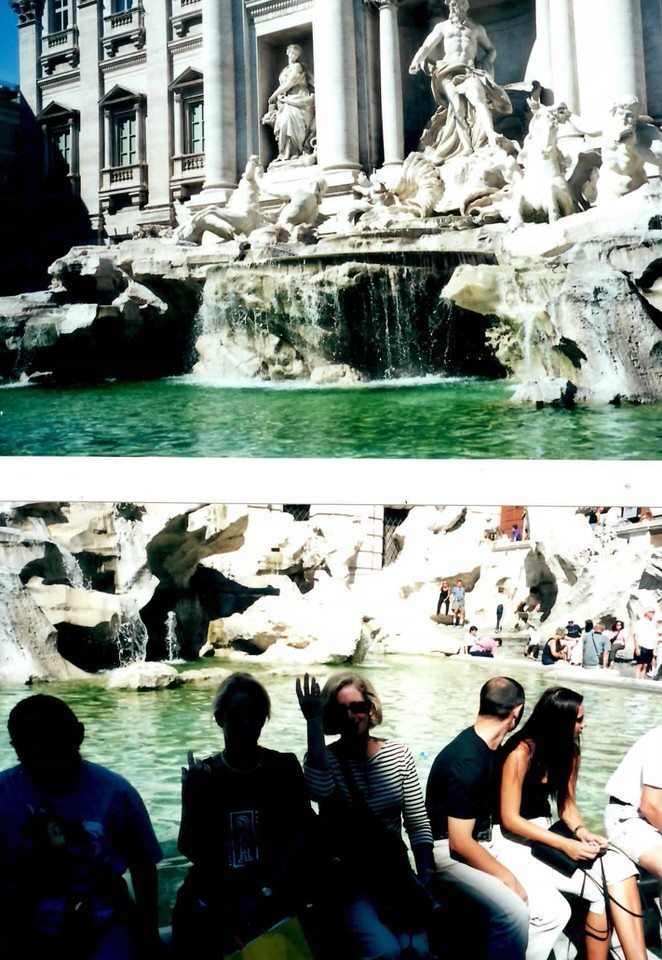 The Vatican and Vatican City
Even if you are not Catholic, the Vatican is a city of incredible history, art, and culture. I've watched Popes give their Easter address and Christmas-eve sermons from the St. Peter's Basilica and seeing the square and the building in person was inspiring to me. Everything in Vatican City is clean and orderly and almost peaceful upon entering the grounds. Inside, we toured the works of art in the Sistine Chapel, the tapestries, the halls and walkways are works of art and roamed the gardens. There are the burial chambers of the popes – a little creepy to me, but interesting nonetheless.

A full day at the Vatican is just enough to touch the surface of the usual attractions. About this time, gilt and gold, intricate tapestries, and so much history and art becomes a little numbing. It is time to move on to some ruins!
The Colosseum
The Colosseum is a magical place! A woman on our tour was a psychic and during this visit, she was "seeing" cats, people who came here for games, and other visions she would not describe to us. Her visions coincide with other stories from here.

The Roman Colosseum was used for staging various events including gladiator fights, wild animal displays, theatrical entertainment, executions, religious ceremonies, mock sea battles and re-playing famous Roman victories.  30 Facts about the Colosseum 
We had fun with the Roman Guards – who are trained to entertain the tourists. 
Final thoughts on this trip
I wish we had done more events like this and spent valuable time together making more big memories. Reviewing the pictures and looking at the itinerary brings back the wonderful time we had – even the small details of drinking wine at lunch, walking, walking, walking, buying gifts for other people. All these memories are treasured and valued beyond measure. Mom traveled later to China, Singapore, Germany, Australia, and Bali, but because we took this trip together, we have this shared memory. Mom is gone now, and almost until her last day, she remembered and talked about that trip with the three of us.
Copyright © 2020 Capetown-Rio, Inc. USA. All rights reserved. Republishing is allowed only with written permission. All photography rights on this page belong to Capetown-Rio, Inc. and the author. Do you have a question, business proposal, or speaking opportunity? Please contact me here.