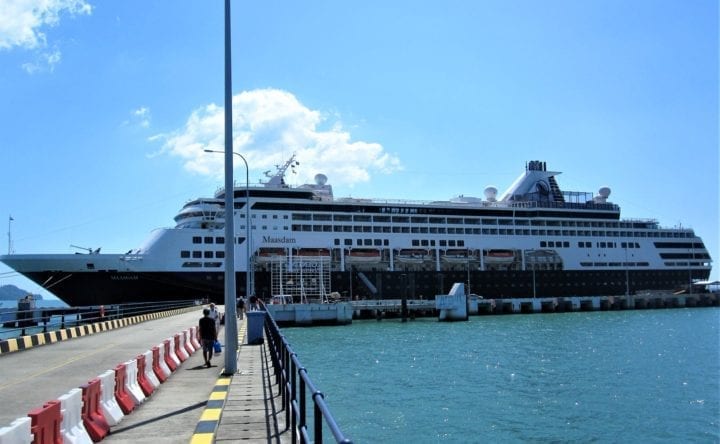 Jim Allen
Cruises
All About A Great Holland America Cruise To Southeast Asia
By
|
I live in Bellevue, a suburb of Seattle, Washington and Seattle is the home of Holland America's headquarters. My friend told me about Holland America's cruise to Southeast Asia and I immediately booked my trip. I'm usually a solo traveler, but on this trip, I have companions.
My bucket list includes the Maldives, a coral island archipelago in the Indian Ocean and Holland America is taking me there and to many other locations.
Glorious Holland America Cruise To Southeast Asia
If you are a fan of cruises and wish to see Southeast Asia, consider Holland America's 20 Day Indian Ocean Explorer (Voyage MA000927) on the Maasdam. The journey starts and ends in Singapore.
Guests have a day and a half to see Singapore. The cruise began on 1/26/2019 and ended on 2/15/2019. The ports of call include destinations in Malaysia, Thailand, Sri Lanka, and the Northern Maldives. Here is the full Maasdam itinerary. The itinerary consists of six sea days transiting the Indian Ocean. This trip is perfect for a solo traveler or a couple. The cruise is the Maasdam's "maiden" voyage for all ports. Therefore, the future availability of this itinerary is uncertain.
For trip planning help, please read The Best Recommendations for Planning for some tips and tricks.
Also, for those that own 100 or more shares of Carnival Cruise Line (CCL) stock, guests receive onboard spending credits based on the number of shares held. Use the onboard credits for wine, dining at a specialty restaurant or the blackjack table.
Most ports average eight to twelve hours of shore time, providing a brief impression of the city and culture. Plan sightseeing before leaving the ship. Usually the day before arrival at the port, Holland America hosts lectures.  The talks point out the best sites to see.
Interesting Cruise Facts
On this cruise, Holland America's Maasdam travels 4,558 miles and burns 332,00 gallons of gas. The ship recycles 1.6 million gallons of water and transited the Malacca Strait, Andaman Sea, Laccadive Sea and the Bay of Bengal. Additionally, the Maasdam makes all their fresh water from the sea water.
Rooms (Cabins)
I booked an interior cabin, but guests can book an ocean view if they desire. There are many options available for cabins. I paid the double occupancy rate because I'm single. The room includes a small television, DVD player, and plenty of closet space for luggage. The interior cabins worked great for me because I have easy access to the gym and the Promenade deck. I love to walk on the Promenade.
Food on an Indian Ocean Cruise
The meals in the Lido Café are delicious. The Lido Cafe menu offers a wide range of breakfast, lunch and dinner items. Lunches are expansive including salads, sandwiches, soups, fruits, and desserts. The Lido Cafe's menu is sure to satisfy everyone.
I also enjoy the high tea service aboard Holland America. High tea is an excellent opportunity to meet other passengers. Holland America makes every dining experience a delight. Every meal is a treat.
Dining Room
The Rotterdam room serves breakfast, lunch, and dinner. The lunch and dinner menus offer multiple courses. The seafood offerings are my favorite. The kitchen prepares swordfish, kingfish, barramundi, salmon, halibut, and lobster. Seafood lovers will cherish the menu.
Holland America cares about the small details. Fresh flowers, china, and linens are standard in the dining room. Holland America left a rose for each lady's dinner setting on Valentines Day. The staff pampers the guests in the dining room and all aspects of the onboard experience.
Meet the Guests
I found that people on the cruise were either couples or solo travelers. This Maasdam cruise works well for both groups. For instance, Holland America has a daily meetup and everybody is welcome to join. There are many ways the ship encourages everyone to be social, no matter if they are traveling solo or in a group.
Amenities
One of the favorite activities is gambling in the casino. The ship also has two swimming pools, several lounges, a spa, and a fully equipped gym. The ship's library offers plenty of books, puzzles, computers with internet access, and access to a free digital New York Times newspaper. Last but not least, try the espresso bar in the library.
There is also free live entertainment, from music to comedy acts and the shows are top-rated. The Maasdam has a Microsoft learning center that offers free classes on Windows 10 topics. Holland America is the only cruise line providing Microsoft training service. I attended several computer classes during my trip.
Other Amenities
Currency exchange is available. There are a laundry service and laundromat style washers and dryers. In addition, the ship also has cooking presentations where guests watch live cooking shows in the ship's galley. I participated in several cooking classes.
The Promenade Deck
The Promenade is on Deck 6. This deck walkway encompasses the whole ship. A walk around the vessel promenade deck four times is equal to a mile. Each morning of my trip, with my coffee in hand, I watched the sunrise from the promenade deck. The early morning quiet and the warm tropical breeze is a fabulous way to start the day.
Pickle Ball
Outside on the main deck, guests use the pickleball courts and basketball courts. Solo travelers are always welcome to pick up a match at the pickleball court.
Tips and Tricks
Here is a list of some advice and planning tips and tricks.
Buy a Visa. I paid $25.00 for a Sri Lanka Visa from the Sri Lanka website. This trip requires only one visa.
Ship excursions and independent guided tours are additional.
Alcohol and specialty drinks (sodas, sparkling water, espresso, etc.) are extra.
Holland America charges guest accounts $14.50 per day for staff gratuities.
Satellite internet is an additional charge; the cruise offers several plans.
Please remember that cell phones do not work at sea.
Travel Tip:  Always get a business card to identify the taxi company and driver. It's easier to recover property left in the taxi if you have their card.
Travel Tip: Here are more tips for Solo Travelers and smart tips for vacationers traveling alone.
Copyright © 2020 Capetown-Rio, Inc. USA. All rights reserved. Republishing is allowed only with written permission. All photography rights on this page belong to Capetown-Rio, Inc. and the author. Do you have a question, business proposal, or speaking opportunity? Please contact me here.