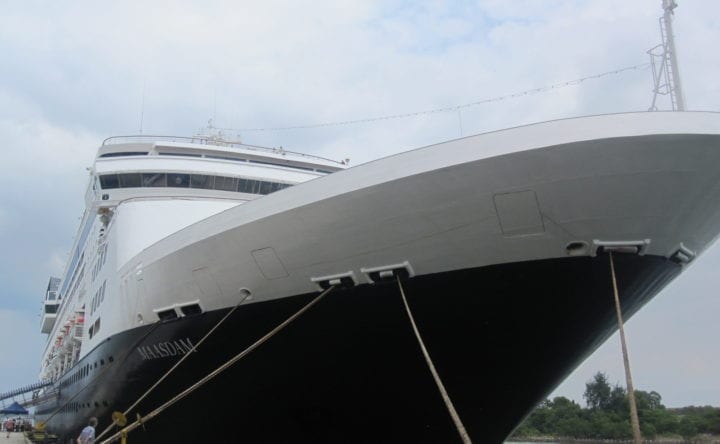 Jim Allen
Asia
Cruise Holland America's Maasdam, 20-Day Indian Ocean Itinerary
By
|
If you are looking for a way to see Southeast Asia, consider taking a cruise! This is a great way to see a lot of different places without having to do a lot of planning.
I left Seattle on Delta Airlines, connected in Tokyo, and flew to Singapore to board my Holland America cruise. My total transit time was about 19 hours. Singapore is 16 hours ahead of Pacific Coast Time (PST).  Expect to leave the States a couple of days before the cruise departs. 
20-Day Indian Ocean Itinerary
Pre-Departure International Check List
1/26/2019 to 2/15/2019
Singapore, Singapore Depart 1/27/2019
Malacca, Malaysia
Georgetown, Malaysia
Phuket, Thailand
Trincomalee, Sri Lanka
Hambantota, Sri Lanka
Male, Maldives
Utheemu, Maldives
Colombo, Sri Lanka
Porto Malai, Langkawi, Malaysia
Port Klang, Malaysia
Singapore, Singapore Arrive 2/15/2019
Day One and Two
The ship departs from Singapore. Guests have time to explore Singapore for day one and day two. The itinerary above shows the order of the ports of call. On day three, the ship departs Singapore for the first destination, Malacca, Malaysia.
Days Three to Twenty
While at sea, use the "When and Where" guide Holland America supplies to plan the day. Enjoy the on board amenities. Meet the guests by lounging on the deck chairs or at the gym.
Sea Days
The ship leaves port and cruises through the day and into the night. This is a good time to catch up on port lectures. Guests like to understand the essential sights to see at each port. Guests can visit the typical tourist spots or visit remote destinations.
The cruise sails for three days at sea, which is an excellent time to begin the vacation. The most consecutive sea days are from Phuket, Thailand for Trincomalee, Sri Lanka. Once the ship leaves the Maldives, it's another three-day cruise to Colombo.
Airport Transfers
Holland America picks up and drops off guests at Singapore's airport. Take the 30 minutes MRT train to see Singapore and to enjoy the clean train. Grab a few Singapore dollars at the ATM at the airport or before you enter the train. The clean, air-conditioned train ride costs approximately 2 USD.
Hotels
Guests planning on staying in Singapore before or after the cruise might consider the Conrad Centennial Singapore. I stayed there, and it's within walking distance to the Singapore Flyer and Gardens by the Bay. It's well appointed. For instance, my room had several couches and modern furniture.
Packing
I've attached a Packing List. All the destinations are equatorial, and at this time of year, expect humid weather and rain. In January and February, humidity may be oppressive for some people. Bring summer clothing.
Weather
On this trip, the highs were generally in the 90s and the lows in the 70s.
Communications
The ship has satellite internet, but there are charges for the service and cell phones don't work at sea. Buy a SIM card for unlocked cell phones, or buy an international calling plan before leaving home to use at a port. I brought my cell phone and my laptop just to be safe.
Currency
Singapore uses Singapore dollars or credit cards, everywhere.  I found that most places, with few exceptions, accept U.S. dollars. Some taxis and excursions take all three payments. However, carry a little local currency to be safe. The ship's reception desk sells local money for a nominal fee.
Travel Tip: For help packing for the big trip try this Packing List 
Travel Tip: Here is a Medication List we recommend. Guests will have what they need in case of an emergency.
Travel Tip: Try this post for the perfect packing for a carry-on bag.
Copyright © 2020 Capetown-Rio, Inc. USA. All rights reserved. Republishing is allowed only with written permission. All photography rights on this page belong to Capetown-Rio, Inc. and the author. Do you have a question, business proposal, or speaking opportunity? Please contact me here.