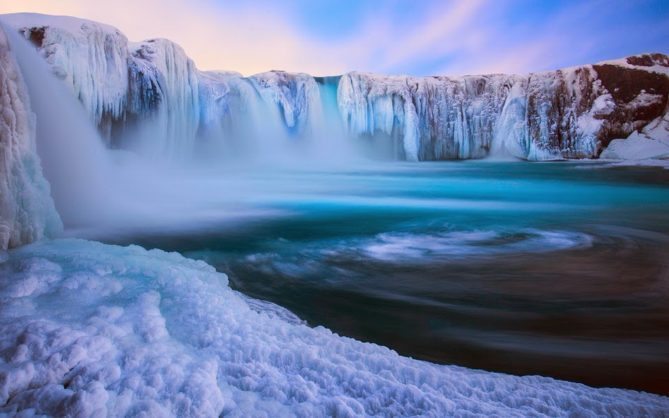 Feature
Iceland – Winter Birthday Bash
By
|
Well, well, now it's time to celebrate my birthday! Here is my celebration and my itinerary for my Birthday extravaganza to Iceland. Now featuring Iceland – my trip was bought without much planning because my daughter said I should celebrate my birthday by going to one of the places on my bucket list. KC, my daughter, and her family are coming to my home for Christmas. Therefore, I'm squeezing this trip to Iceland in as my extra special gift to me in between the holidays. So you might ask – why Iceland? I've always wanted to go to Iceland, to hunt for the Northern Lights. There is no guarantee that I will find the stars or if it will be warm enough to take the photos. But, I believe, I will find the Aurora Borealis and capture them on my camera.
Now I am not saying when I am going – I don't want the bad guys to know my travel plans. But, it is scheduled. Oh yes, one other thing, never tell the world your travel plans by posting them on Facebook or the web. Here is my itinerary for Iceland – Winter Birthday Bash.
Birthday Special – Iceland Air Special Offer Northern Lights
The flight takes 7.5 hours from Seattle – it is a direct flight. Don't forget, there are Hop off deals available, in case you want to add Iceland on to your next trip to Europe. Here is a way to do it. On either leg of your journey, from the Americas to Europe, Icelandair offers Hop off deals. These deals allow you to hope off and stay for up to three nights. I have heard some people have gotten seven nights Hop off deals. Deals sell out fast. So, if you see a deal to Iceland, I recommend – buy it quickly.
Special gear needed: A tripod! and remember the light only shines for 3-4 hours in the winter when the Lights are the best. But, there is no guarantee you will see the lights so bring a big warm coat! And don't forget your heavy boots, silk long johns, and ski pants.
Why buy your tickets from Icelandair?
Icelandair offers low-cost flights to Europe from Seattle. When you book your flight, you'll schedule your layover if you are taking advantage of the unique Hop off deal.
My tour includes activities, a hotel, and flights. I had to keep reminding myself; the weather and the daylight are what make Iceland unique in the winter. Nature controls everything and all activities. So for now, while I'm planning I am focused on the forecast and whether it will snow or rain.
My Hotel:
Flybus PLUS Round-trip – buy in advance before departure, Price USD 39

Walk the town and see the sites
Day 2: Gullfoss, Geysir, and Thingvellir – Afternoon tour (RE24 ) – Price USD 69
Day 3: Warm Baths and Cool Lights – Included (SRE64) – included
Day 4: Whale Watching Andrea Afternoon Tour at 1 PM – Transfer included. (ST04e) – price USD 91
Day 5: Relax at the Blue Lagoon Departure 10:00 AM (BL01) – Price USD 77
Total Price:

USD 1,100

Taxes:

Included in price
Auction Seats
Business class doubles the price of your ticket if purchased in advance. You can wait for the Auction sale and see if you win but, since I have to go to work the next day – I paid for business class And after all this is my birthday gift. I think this trip is an exceptional opportunity, I am very excited about seeing Iceland.
Travel Tip #1: You can wait for the auction to bid on available upgrades to save money.
Travel Tip #2: If you don't bid on the available business class seats you will pay about $1,900 to upgrade.
Try to squeeze in Iceland on your next trip – the location is worth it.
Copyright © 2020 Capetown-Rio, Inc. USA. All rights reserved. Republishing is allowed only with written permission. All photography rights on this page belong to Capetown-Rio, Inc. and the author. Do you have a question, business proposal, or speaking opportunity? Please contact me here.