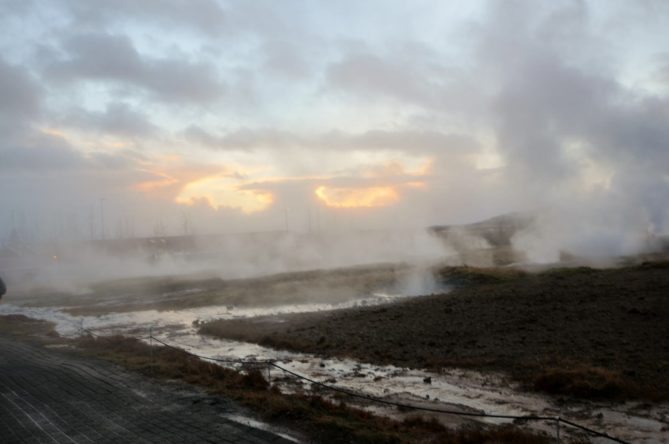 Feature
Hiking Thingvellir, Geysir, and Gullfoss
By
|
When I think of Iceland, the film location for Game of Thrones comes to mind. Game of Thrones is one of my favorite shows of my all time.
Game of Thrones is a fantasy story about kingdoms, conquering impossible environments, and the people who overcame against all the odds. Like Game of Thrones, Iceland is about conquering the elements. I have no idea how the Vikings overcame the environment in Iceland. The thought of being a settler in Iceland is mind numbing. If the weather doesn't get you, the lack of sunlight in the winter would get the best of me.
There is something 'other' worldly about Iceland. It may be that it is so sparsely inhabited, that the eery quietness is deafening and the beauty penetrates the cold harshness of the landscape.
Hiking Thingvellir, Geysir, and Gullfoss – Why Do A Tour?
The tour package I went on was all right for one day in Iceland. It was full of friendly tourists like me, who were eager to see the fantastic sights. But, our tour guide was as harsh as the environment. She was a drill sergeant. I guess you have to be when you are herding tourists. But, perhaps a little gentleness and a softer approach or tone might make her more approachable and less intimidating. It wasn't just me who felt that her rules were madatory. My friend Jim, went to Iceland during the summer – he took a different Tour – read about his Awesome, Iceland Golden Circle Day Trip.
A lovely, English couple Sally-Ann and Darren celebrating his 50th birthday made some kind of funny jokes about her. I must admit, I immediately bonded with them because I completely agreed. Several of the guests from the bus raced back early to make sure they weren't late, not even one minute late. Everyone feared the lady tour guide.
Another man and his partner said they feared she would leave them behind. So, no one dared step out of line. Law and Order, 'established' when she said, 'be back a 1:32, not one minute later.'  Maybe the odd time was so we remember what she said. Nevertheless, she was intimidating.
Hiking to Thingvellir
Thingvellir a National Park in Iceland and is commonly known as the birthplace of the nation. Also known as Þingvellir, it is a World Heritage Site.
As the rain came down, we walked along and could see the settlement site below.
As you can see in the photo, low cloud cover filled the air and rain fell as we walked the trail. We didn't have a guided tour, and that explained what we saw. We were told to talk our walk and be back in 20 minutes.
Exploring is fun. Stopping for photos along the way is relaxing because the views are breathtaking.
Hiking to Geysir
Little geysers were everywhere. The earth felt like it was about to split open. A strong smell of sulfur is in the air. But, the smell somehow seemed therapeutic. It felt like the earth was moving even though it wasn't as far as I could see. The fire and ice of Iceland felt and seen in this photo refers to the underground volcanoes.  Surprisingly, I just noticed, we had a break in the weather during this section of the tour. It is beautiful at Geysir!
Surprisingly, posting my photos, I just noticed, we had a break in the weather during this section of the tour. It is beautiful at Geysir!  Rain or shine go there.
Geysir
There She Blows – Everyone Cheered!
Benches
I love taking photos of benches. Everywhere I go, I take this photograph of a bench. I have no idea why I love benches? This picture is of my favorite bench in Iceland. The light in Iceland is pretty remarkable, but I found it pretty difficult to get a good photo because the light is flat. Unfortunately, our tour guide only gave us 20 minutes at each of the first two locations. Luckily, she gave the group an hour at the waterfall. She was rushing because the daylight was going to be gone soon and she wanted to give us enough time to see the waterfall in daylight.
Waterfall – Walking to Gullfoss
Pictures of me are never in focus – but at least I have one. I have to say I am thrilled this one came out. Next time, I will have to remember to wear some make-up.
Travel tip: Notice how the light is changing and how blue everything looks. It actually looks this blue!
Snow Messages
Purple WaterFall
I have no idea why this photo came out with a purple waterfall. Perhaps it's not a great picture, but, with the limited time that we had, I felt lucky to have any photos to share.
Next time I go to Iceland, I am going to take a Photography Tour, so I have time to set up a tripod and take a decent photo.
Sun Break
I liked the way the sun was setting and the way it broke through the clouds. The landscape felt crazily dramatic and unreal. Since this is the land of Game of Thrones, it's possible to see how the landscape inspires drama and surreal beauty.
If this were in the USA, we would have ugly guard rails everywhere. But, at Gullfoss, there are only stakes with two thin ropes connecting the stakes as guide rails. The line sags and only came about half-way up to my to knee and in some locations to my waist. Because the rope is so low, nothing blocks the magnificent view, just don't trip over the little line.
It's completely unencumbered.
Gullfoss
Walking back to the Tour Bus
We barely had time to explore, even though we left the park at closing. The good news is we saw all three spots with the remaining light of the day.
By the time we got back on our bus, it was very dark.  Time to head back to our hotels.
Travel tip: If you are staying in town, you will need to walk to your hotel. The tour buses are too big to fit on most of the small streets. So expect to walk a short distance to your hotel.
Copyright © 2020 Capetown-Rio, Inc. USA. All rights reserved. Republishing is allowed only with written permission. All photography rights on this page belong to Capetown-Rio, Inc. and the author. Do you have a question, business proposal, or speaking opportunity? Please contact me here.