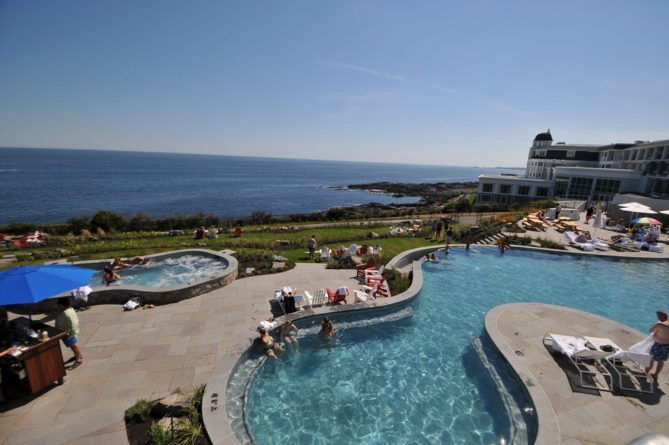 Maine
York Maine Accommodations For Every Budget
By
|
In Maine, the options are endless when it comes to hotel accommodation. Here is a sampling of York Maine's Accommodations and the ones that are most interesting to me. York Maine's has it all for the camper, lover of destination hotels, a quaint owner-operated guest house, or you want to rent your dream home by the sea. Book in advance to find the best place to call home, and rest your body and soul. You name it, and it is all available for the traveler in York Maine. Maine is a fab vacation destination.
York Maine Accommodations – The Hotel Experience
The accommodations in York are diverse. Therefore, the hotels in the area fit every budget, lifestyle, and taste. Surely, you can find the best place for you and your budget. The only warning is – if you are going during the summer season May to October, be sure to book a year in advance. I thought I would divide the types of hotels in 5 categories: destinations hotels, family owned and operated, chain hotels, camping sites, and home or condo rentals.
Book Early
First of all, book early. The best hotels are charming, and the location close to the beach or have a beach view and sell out quickly. The closer any property is to the beach the more expensive; it will be. Accommodations along the coast, as I said, fit every budget from York, Maine to Kennebunkport, Maine. You might be camping if you are frugal, but you can find a place to stay. You can also always find loads of beaches.
Best Destination Hotels
Recently renovated, the premier location in York is The Cliff House, a destination hotel. This hotel has a long history and is a local favorite. It is even better now with an eco-friendly spa, fantastic dining facilities, fabulous food, a ballroom, rooms designed like a ship cabin, and apartments with private staff including a butler and private chef.
Best Family Owned and Operated
The Light House Inn, first of all, the Inn is not on the beach. Each year it restores some of the rooms, making them even more charming and more comfortable. If you like family owned places, with a relaxed atmosphere and friendly staff as well as walking distance to the Long Beach, this is an excellent choice. Parking is extremely limited at Long Beach so anywhere that you can stay that uses the trolly or is in walking distance to the beach makes the hotel a premium location.
Best Chain Hotel
Next, you might decide on booking your stay at chain hotel such as Best Western. They are available. These hotels can be booked on shorter notice and are a further away from the beach. As a result of staying at a chain hotel, you will need to pay for beach parking which runs about $20.00 a day, is limited and based on availability. These hotels typically come with breakfast. By the way, you can buy all day passes for the trolly or bus, but they aren't connected – one is private, and one is public – so the public transportation is extremely time-consuming.
Best Camp Sites
Camping and taking the bus to the beach is an option to save money. The only issue if you are a camper, you will be reliant on the summertime bus schedule which tries to come every 20 minutes. One of the stops on Algonquin Trolly goes to Wells and stops at Ponderosa Camping. The Trolly even stops at the State Park if you want to go for a hike no matter where you are staying. Another popular camping area is Rachel Carson National Wildlife Refuge.
Best Rental Homes
Rental homes, time shares, townhomes, and condos: Lots of places are in this category, but since families have been coming here year after year, they book by January. Needless to say, you can find listings on Expedia, Booking.com, Airbnb and the usual travel sites.
Best Premier Destination Hotel – The Cliff House
Newall renovated – Cliff House re-emerges as one of the most captivating water-front destinations of its kind following a landmark transformation. This iconic Maine resort welcomed its first guests in 1872. This destination resort serves today's new community of luxury travelers. The resort offers exceptional coastline views, 'smart' lighting and other amenities, and delivers an emotionally rewarding experience. Located minutes from Ogunquit's sandy beach and just over an hour north of Boston, Cliff House stretches across 70 oceanfront acres atop Bald Head Cliff on the southern coast of Maine, overlooking the ocean's edge and Nubble Lighthouse. Local buses can take you around the area. – So if driving and parking become a hassle in summer months, you'll find the local bus service is excellent. The bus drivers are very friendly and helpful.
Best Family Friendly Hotel – The Light House Inn
Hotel Managers will show you their garden and tell you all about the town and what to see and do. The folks are super friendly and very laid back. You can visit or just stick to yourself – your experience is all yours.
Best Motor Hotel
Camping
Interestingly, many Europeans and people from outside of the USA come here to camp.
Condos and Private Beach Rentals
What about Airbnb?
Here is a little bit about what I experienced when I used Airbnb.
https://www.whereintheworldiskate.com/airbnb-vs-residence-inn-review/
Copyright © 2020 Capetown-Rio, Inc. USA. All rights reserved. Republishing is allowed only with written permission. All photography rights on this page belong to Capetown-Rio, Inc. and the author. Do you have a question, business proposal, or speaking opportunity? Please contact me here.