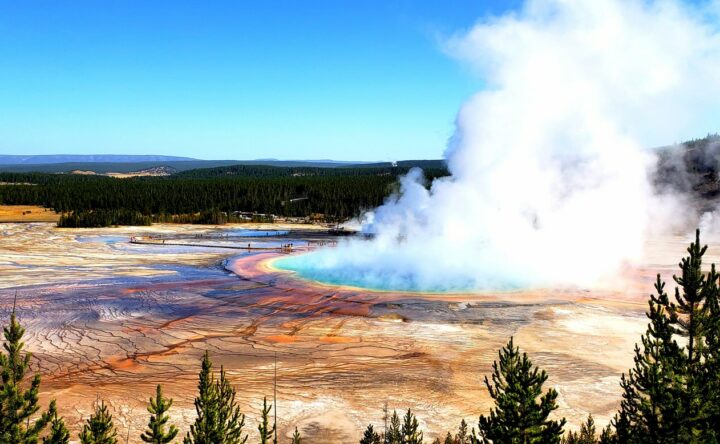 National Parks
Yellowstone, First & Best National Park
By
|
This year was one of my best travel years. Yellowstone National Park has been on my bucket list since college. Finally, I made it to the most glorious National Park in the USA. In 30 days, I flew from Seattle to Crater Lake, one of the seven great wonders of Oregon, to Walk the Rim. Then two days later, I flew to Butte, Montana drove to Hardin, Montana to see The Little Big Horn and Custer's Last Stand. Then on to my next stop, the northeast entrance of Yellowstone, and exited through the south gate into the Grand Tetons. From there, I went on to Jackson, Wyoming and departed from Bozeman, Montana. Phew, what a trip!
How to Reach Yellowstone, the Best National Park
Yellowstone was set aside by U.S Grant and is the first U.S. National Park, and many say the first National Park in the world. It's hard to get to and should stay that way. Most people drive to the park from their home state. Some people fly to Jackson Wyoming to reach the West entrance of Yellowstone. I didn't fly out of Jackson, Wyoming to Seattle because the flights are super expensive!
Yellowstone Flights
Here is my Yellowstone Travel Hack. If you want the best flight value click, check on the best flights here. Change your departure city to match your location to find the best rate. I found the best airfare rate by using these links, then called the airlines, and received a cheaper flight.
The three cities most people fly to are, Bozeman Montana, Jackson Wyoming and Cody, Wyoming. From there they rent a car and drive through Yellowstone National Park.
My Route and Where to Stay in Yellowstone
As I said, I entered through the Northeast entrance which is closed in the winter; the Northeast Entrance makes sense if you are coming from the northeast side of Montana like Billings or Red Lodge, Montana.
From Billings, you can take I-90 west to US 212 west and from Red Lodge, Mont., take US 212 west. Driving US 212 west is arguably the most dramatic route to enter the park. It's super steep and scary to drive with few guardrails. I can see why its closed in the winter. The sweeping views from Beartooth Pass are spectacular. The switchback roads are scary as all get out. Expect to see wildlife.
Best National Park App
The National Parks don't offer free internet, and if they do offer WIFI, it is expensive. Download the maps you need from Google, then use the maps via GPS. My data plan was roaming, and I ran out of data. But, I used the maps via GPS. The best app map source I found was the Gypsie Guide App.
Stay at Canyon Village and Grant Village
I'm glad I stayed at the Canyon Village. Make sure you book at least six months in advance to get the best rate. BTW, there is no way to see the park and stay outside of it and re-enter each day. The park is just too big to waste that much time in my opinion. Alternately you can buy a permit and reservation and stay in an RV or camp inside the park. Check with the Yellowstone National Park service and plan ahead.
Next time, I'm staying at Roosevelt Lodge, Lake Hotel and Old Faithful.
Yellowstone Hotel Itinerary
Drive from Butte, Montana to Hardin, Montana and onto Little Big Horn – definitely worth seeing, because you'll ask, why anyone would divide the troops here?
We stayed one night Hardin, Montana.
Two nights in Canyon Village
One night Grant Village
One night Butte, Montana
Tip: Call the hotels directly to avoid a service charge or book online. I thought I was calling the hotel but got a booking company who put me in the wrong room and overcharged me.
Tip: Three things make a great journey: food, good night sleep, and water. Invest in both and drink plenty of water.
Yellowstone Map and Daily Schedule
Below is a list of the Yellowstone entrances and the map I used while traveling: 
North entrance: Gardiner, Montana
Northeast entrance: Cooke City, Montana
East entrance: Cody, Wyoming
South entrance: Jackson Hole, Wyoming. Togwotee Mountain Lodge
West entrance: West Yellowstone, Montana
Basics About Yellowstone
Nearest towns to Yellowstone
Cheapest airport to Yellowstone
Yellowstone Forever – Invest and buy a membership and receive a discount on merchandise at the National Park and help the park last forever.
When to Go to Yellowstone
The park is very crowded when the kids are out of school. The best times to visit Yellowstone National Park are from April to May and between September and November. These seasons offer mild weather and fewer crowds. July and August are the most popular months to visit because the kids are out of school, and the weather is warm enough to sleep outside.
What to Do Each Month
June is for river rafting
July/August is for fishing
September is when you see the most significant amount of wildlife
Yellowstone Regrets
My biggest regret is I didn't see Mamouth Spring. I do plan on going to Yellowstone again because it's worth it. Sadly and unfortunately, I didn't get to see marmots at Yellowstone, as I did at Mt Rainier National Park. I wish I had thanked the Canyon Village staff even more than I did. They are fabulous!
Best Things to See in Yellowstone
These are the top sites to see when visiting Yellowstone:
Old Faithful
Grand Canyon begins in Yellowstone
Yellowstone Grand Prismatic Springs
Yellowstone Lake
Hayden Valley
Norris Geyser Basin
Mammoth Hot Springs
Lamar Valley
Pork Chop Geyser
 Lower Geyser
Where to Eat in Yellowstone
We ate at the Lake Hotel Restaurant for dinner and had a cocktail in the lobby. Then after dinner, we went to the Lake Lodge porch for the best sunset reflecting on the mountains. I couldn't even see the mountains until the sunset lit them up! It is always beautiful. When visiting Yellowstone don't miss the Lake Lodge for a special night.
You also can't miss the Roosevelt Lodge and Old Faithful Inn which are excellent places for a midday meal after you see Old Faithful at noon.
The Grant Village Dining Room had delicious food. Look at my bison cooked perfectly to order.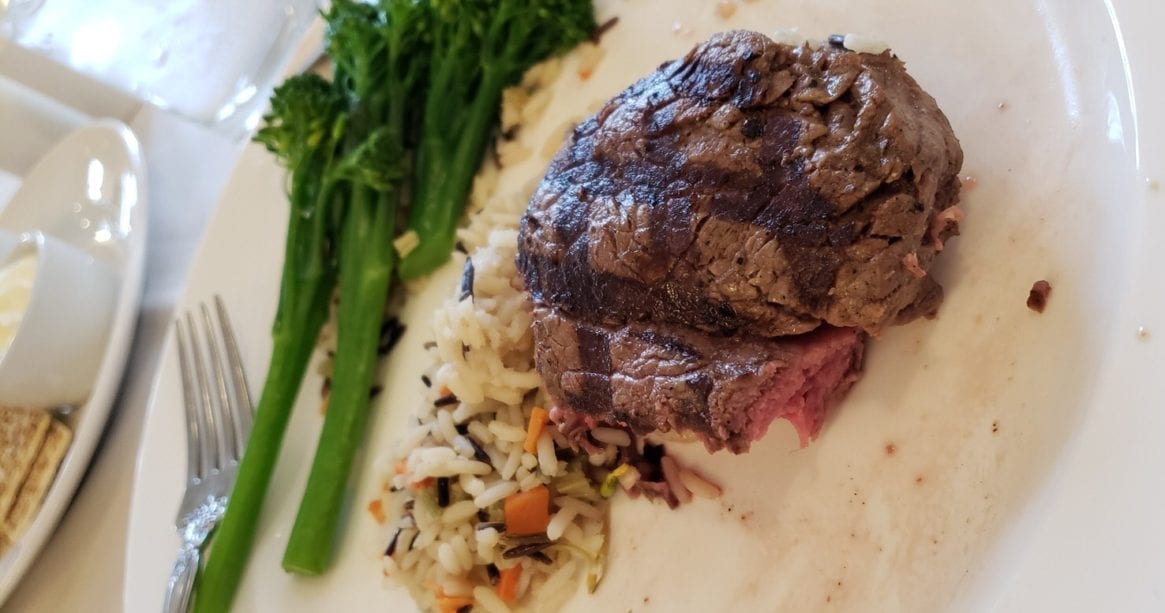 What I Learned About Yellowstone
I learned a lot at Yellowstone. First, it's expensive. I think the National Parks services should increase the entrance fees, hotels and food and make it more expensive especially for bus tours. Raising the prices would improve the experience and reduce tourists. There are way too many tourist buses in Yellowstone with people shoving umbrellas in everyone's face, while blocking the views of the sights.
How to Avoid Tourists
I got up very early to take my photos and to avoid the tourists. Some stay up later and take pictures of the starry nights. A sure way to avoid tourists is to go during off-hours. I got up early and took fabulous photos of the sunrise.
Yellowstone Tips
Use the restrooms when you stop no matter how long the line. The first rule of tourism is – use the bathroom, you don't know when the next one will appear.
Make your reservations at least six months in advance. If you want to avoid high prices for hotels, book them early. Booking in advance will save your budget.
Leave the animals alone. Stay in your car. Skip the selfies. Just leave the wildlife alone.
Stay off the geysers, stay on the boardwalk and respect the park. It's obvious, but I saw three tourists go into the geysers, chase the wildlife into a forest, and take selfies with animals. I stood next to my car, but, NEVER approached an animal. The wildlife is wild, remember?
Get up early. We were up at 4:30 – 5:00 am to avoid crowds and see wildlife. My friend Steve sent me this photo of a bear they spotted along the road early in the morning.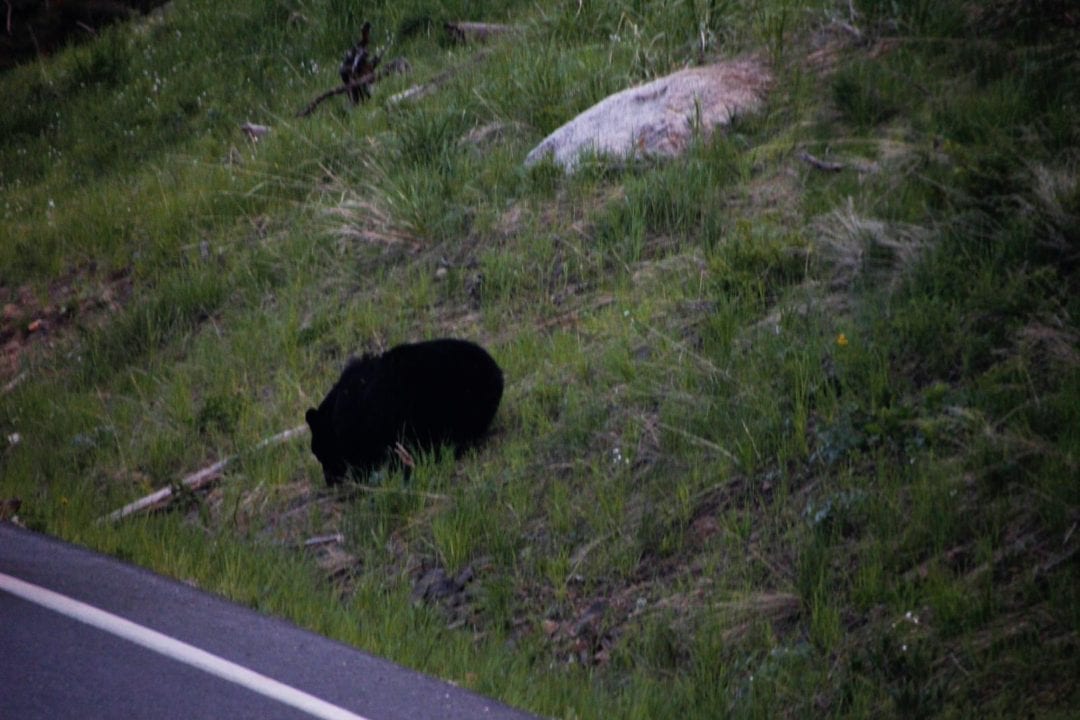 If travel seems like something you want to do, consider these items when deciding if you should travel or not.
Copyright © 2020 Capetown-Rio, Inc. USA. All rights reserved. Republishing is allowed only with written permission. All photography rights on this page belong to Capetown-Rio, Inc. and the author. Do you have a question, business proposal, or speaking opportunity? Please contact me here.