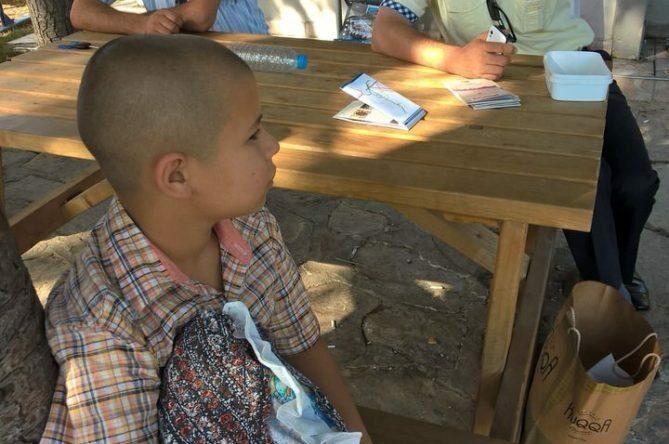 Advice
Turkish Drama – Istanbul Street Kids
By
|
Let me tell you about some more Turkish Drama – Istanbul Street Kids of Istanbul. Like many large and small cities and towns, Trafficking Children is repent. Istanbul Sex Trafficking unfortueately starts with street kids, who are put on the street by family members or because they have nowhere else to go. These kids work the streets so their parents can drive Land Rovers. I never get used to seeing street kids working like adults or to benefit their parents.
Crazy Turkish Drama-Istanbul Street Kids
You find kids on the street selling items to tourists. This doesn't happen everywhere in Istanbul. It happens in the tourist areas because the tourists will buy from children and give money to them. tourist think they are doing the right thing, and they aren't.
Why aren't these Turkish kids in school past 5th grade?
Laws in Turkey don't prevent parents from leaving their children on the street to beg. When I left the shop one evening, I found the same little boy I had seen before, sleeping on the street. This time, I almost tripped over him at the bazaar entrance.
Two Spanish women came up and talked to me, offering support. A Turkish man translated for us. The boy told us he was Turkish, not Syrian, and his mother now left him here at night instead of during the day. I began calling him "Turkish Boy" once I found out his nationality.
We took Turkish Boy to the tourist police station so they could find his mother. When he showed up on the street again, I told him that if he comes here again, I would have to take him back to the USA with me. He could go to school there. He wasn't happy about that idea.
Turkish Drama-Istanbul Street Kids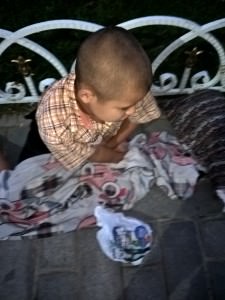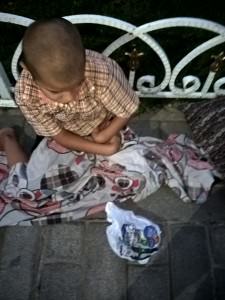 My American sense is that kids deserve better than this, but my thinking might be culturally judgmental. My feelings are mixed. Turkish Boy deserves better.
Crazy Turkish Drama-Istanbul Street Kids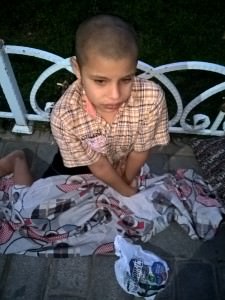 I am not preaching, but, to me, it's child endangerment. It's certainly not good for business or the little boy.
The police took the boy's money, and he was sent off. I may have made the situation at home for Turkish Boy worse than his life on the streets. Last time, he had gone home with no money or container to use for begging. We noticed that this time, instead of his begging container, he had only a plastic bag to use.
Where would I find Turkish Boy next?
The police then gave me a warning. They said to be careful. Helping Turkish Boy off the street in Sultanahmet was relatively safe, but in other areas of Istanbul, I could get hurt.
It never dawned on me. They were right, I could get hurt. My comfortableness wasn't helping.
The Turkish police said, "The terms of engagement are this — bring Turkish Boy here when you find him. Don't do this anywhere other than Sultanahmet. You will get hurt."
Does Turkish Boy have a name? The police said, "He won't tell us."
I hear ya! Got it.
Read more about Turkey How to Avoid the Turkish Gigolos – Turkish Drama
https://www.whereintheworldiskate.com/2015/12/little-turkish-boy-back-on-the-streets/
Copyright © 2020 Capetown-Rio, Inc. USA. All rights reserved. Republishing is allowed only with written permission. All photography rights on this page belong to Capetown-Rio, Inc. and the author. Do you have a question, business proposal, or speaking opportunity? Please contact me here.