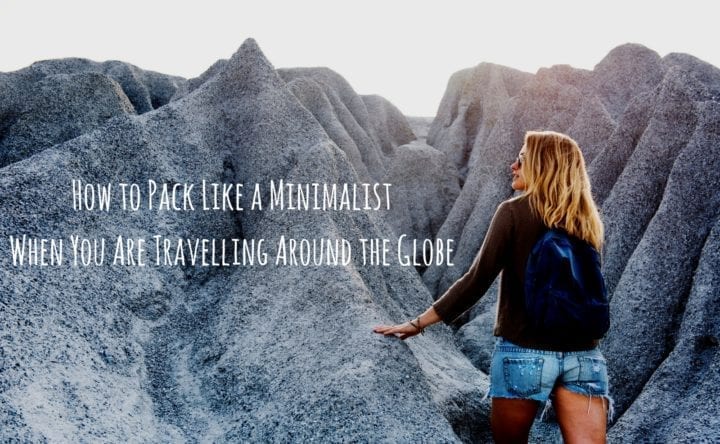 Advice
How to Pack Like a Minimalist while Travelling Around the Globe
By
|
Minimalism is a perfect way to introduce simplicity and relaxation into every sphere of your life. Now, add travelling the globe and your packing just got a little bit harder. There is a solution. Minimalist packing is the secret way of packing that brings your favorite clothes with you while travelling. Here are some of my top minimalist packing tips for going around the globe.
Minimalist Packing for Travelling Around the Globe
I've been traveling around the USA and Mexico, so I had to size down my luggage from several suitcases to a backpack. Minimalist packing was challenging for me because I take everything I might need in my bags while travelling (even though I typically didn't need half of the things I'd packed). I used to waste hours and money packing and to transport almost my entire closet from one destination to another.
Minimalist Global Traveller
I finally realized that carrying so much luggage was both exhausting and unnecessary, so I decided to embrace the ways of minimalism. If you've been struggling with the same problem, becoming a minimalist traveller will make your life so much easier, trust me. So, here are several tips on minimalist packing that will keep you light and happy while on the road.
Pack the Right Bag
The first step is finding the perfect bag that will help you pack everything you need and prevent you from packing more than you need. Your choice of luggage will depend on your final destination. For example, backpacks are much suitable for travelling to sandy beaches and lush forests while a wheeled suitcase is appropriate for visiting a city. If you decide to go with a suitcase, you should pick a hard-shell suitcase that will prevent you from over-packing. Since there's no extra room, you'll have to pack wisely.

As for a backpack, you should go with a bag that can carry around 40 liters. Unless you're going camping, this will be just enough. Backpacks are highly functional. Since typically packs are classified as carry-on luggage, efficient to pack, transport and store, backpacks are perfect for minimal packing.
Pack for a Week
Whether you're going away for a couple of weeks or couple of months to various destinations, when packing your belongings, you should pack enough items for one week. You'll be able to wash your clothes and buy specific things, which is much more comfortable than carrying around your entire closet. Don't pack clothes and items "just in case" because you'll end up with more than you've planned. Focus on the bare essentials and keep in mind that you'll always be able to buy something you've forgotten.
Choose Versatile Items
When packing your clothes, you should choose versatile pieces that you can combine in different outfits. Neutrals are a typical minimalist choice and a practical one, too, because it won't be that obvious that you're wearing the same articles frequently. Also, bring pieces of clothing that you enjoy wearing and makes you feel comfortable. Also, keep in mind different climates of the countries you're visiting and bring layers of clothing.

Versatility goes for other items, as well – you can find a shampoo that can work as a washing detergent or body wash at the same time.
Stay Organized
Organization is one of the critical principles of minimalism, so you need to keep both your luggage and traveling organized. You can have a functional yearly planner where you can write down important dates, addresses and a list of items you mustn't forget. A planner will keep you organized and stress-free because you won't need to worry about forgetting something.

When it comes to packing, you should also use smaller compartments and bags for items within your luggage. For example, you can introduce separate packing cubes and bags for toiletries, dirty clothes, electronics, etc. You can also save a lot of space by rolling your clothes into packing cubes instead of folding them.
Follow Three Rules
Minimalist travellers follow the rule of three when packing, bringing only three items in each category. This way, you'll have something to wear while the other two pieces are drying off or washed. However, you might want to pack several pairs of underwear in case you can do laundry only once a week. When it comes to footwear, you should bring two pairs of shoes. If you're traveling to a tropical destination, you should have a couple of comfy walking shoes and a pair of flip-flops. As for other types of activities, you should also have a pair of walking shoes and another pair for different occasions.
Try these suggestions, pack light and simple, and see if it makes travelling easier for you and more fun.
The moment I became a minimalist traveller, I felt a huge relief, and if I could do it, you can do it, too!
Copyright © 2019 Capetown-Rio, Inc. USA. All rights reserved. Republishing is allowed only with written permission. All photography rights on this page belong to Capetown-Rio, Inc. and the author. Do you have a question, business proposal, or speaking opportunity? Please contact me here.