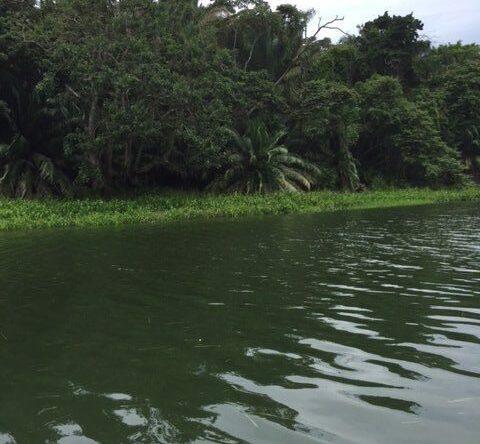 Panama Frugal Travel Itinerary – Fishing Trip
Panama Canal Fishing Trip
Depart SEA-PTY /13/2016 via DELTA
STOP IN ATL
ARRIVE PTY 2130 HOURS
7 Day Trip
This is a seven-day trip you will lose two days travel to Panama Canal Zone and returning home
Day 1
Pickup at 0630 HOURS—Transport from Holiday Inn/PTY to Lake GATUN, a man-made freshwater lake.
Departure at 0700 HOURS
Fishing Trip – Catch THE BANANA CHANNEL TARGETING PEACOCK BASS
Arrived at fishing grounds about 0745 HOURS. CAUGHT 2 FOUR POUND FISH, and lost numerous others.
Fished until 1300 HOURS and proceeded to Monkey Island, where we watched Capuchin Monkeys playing in the jungle.
Arrived back at the dock at about 1400 HOURS, then transported back to the hotel by the owner of Panama Canal Fishing.
Cost $325 USD. Excellent trip and experience. A nice boat with a sun top. Powerful engines. Newer fishing equipment and plenty of bait. Other tours operated wood boats with benches as seats—no way!
Day 2
7/15—Spent day is hiking around the city.
Hiked from the hotel to the Fish Market (Mercado de Mariscos) in the evening and had the shrimp cocktail for 1.95. An explosion of tastes and smells. Worth a visit, if you can stomach the intense smells. The Holiday Inn where I stayed for four nights. My breakfast came with my room so every day I ate for free. Certainly, I did take some risks during each day, eating street food from vendors. But, I didn't get sick. Maybe I should be careful in the future.
Day 3
7/16—Spent the day exploring Panama's metro line and rode the entire length, getting off at different stops and exploring.
One ride is only about .35 cents. Took the metro to the train station, which offers bus service to many parts of Central America and Panama. When it came to my meal, I ate at many holes in the wall. One of my favorites were the panderias—the local bakeries. A large cookie and Panamanian coffee for .75 cents. Again, fortunately, I never got sick, but, since I ate where the locals ate – the food was great.
Casco Viejo, a UNESCO Site
I spent the day wandering around Casco Viejo, a UNESCO site. Next, I walked through some of the worst slums in the world. I did this to get an understanding of how the Panamanians live. It's humbling to see people living in squalor, but it educates you about the human condition.
Met a beggar who I recognized on YouTube. He invited me on a brief walking tour. I listened to his talk, and then he took me to the Cafe Coca Cola. It's a major hole in the wall.
I was the only gringo in the restaurant. next, I ordered Arroz con Pollo and bought the beggar eggs and bacon. I had a large cup of Panamanian coffee. Both meals came to about ten dollars. He was so sad, that I gave the man $5.00 and thanked him. Meeting real local people and connecting with them is what I think is the essence of travel.
Day 4
7/17—Departed Holiday Inn Express (paid $60 per night) by local bus for Tocumen Airport—cost .50 cents.
The journey was about 45 minutes. A met a young man who boarded the bus about halfway through my trip. Suddenly, he welled up with tears as he told me about his escape from Venezuela.
He was worried about his parents who were still in Venezuela. He was sobbing by the time he got off the bus. I wished him well and told him that things would be okay.
Why pay more, I paid for only one tour on this trip. Since I'm still learning how to travel frugally, I think I get more out of travel by "wandering" and talking to people. By doing this I learn a lot about myself.
Day 5
I enjoyed this trip!