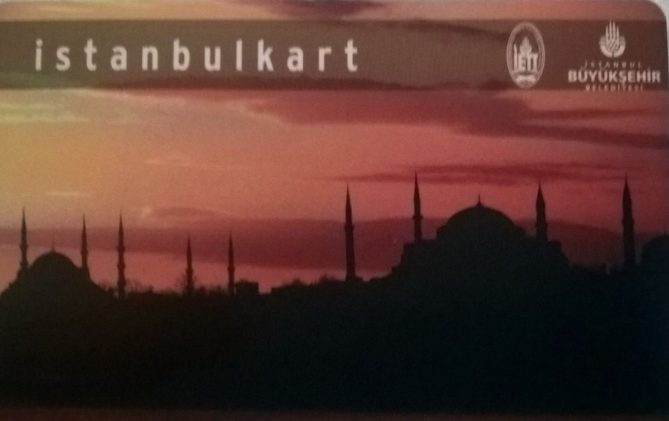 Buying an Istanbul Metro Pass
Metro Pass or Istanbul card is a great deal. Two names for one great value, no matter what you call the card. Istanbul Metro Pass is also known as a My Istanbul card. Here is how to use and order My Istanbul Card. Whatever you call it, it's a great value and easy way to save money and efficiently use trams, trains, ferries, buses, and subways in Istanbul, Turkey.
Buying Istanbul Metro Pass
Simple. Easy. Convenient.
The card looks like this.
Secure Simple Transportation
You will also receive a travel discount for multiple trips, and individual trips within a few hours. You can recharge the pass at lots of convenient stations kiosks, so you can pay as you go.
My Istanbul card works on all transportation in Istanbul, not with taxis, and gives you discounted travel. My Istanbul card costs a small amount.  Sometimes hotels have My Istanbul cards that you can borrow or they may loan to you. You can help future guests and the hotel by leaving some extra money on the card and play it forward.
The pass makes it easy to use all of the fantastic public transportation in Istanbul. By using the pass you will travel like a naïve, you will see a lot more of the city besides the tourist areas, and you will get out more if transportation easy and accessible.
Here are the locations I use when I am in Istanbul for recharging my card.
Gurhane station – in one stop before Sultanahmet Fatih district
Takism station – the last stop on the tram
Kodikoy station by the Grand Bazaar and the Spice Bazaar
Copyright © 2015 Capetown-Rio Inc. USA. All rights reserved. Republishing is allowed only with written permission. Do you have a question, business proposal, or speaking opportunity? Please contact me here.