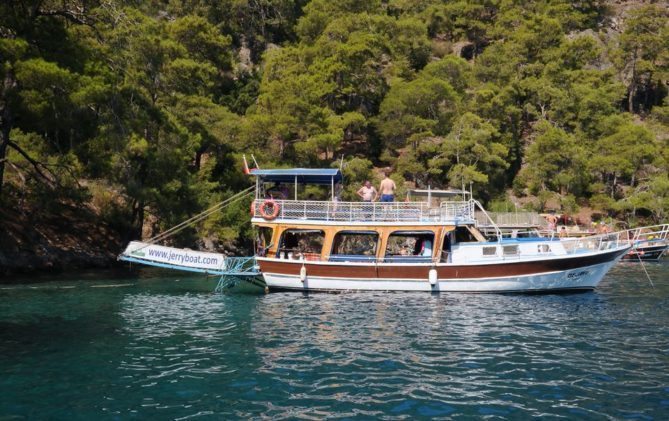 Jerry's Boat Tour Fetheyi Turkey
There are lots of boat trips. Most of the trips are crowded and overbooked. I love Fetheyi Turkey – Jerry's Boat Tour because it is the right capacity (number of guests), the staff, food quality and boat type are excellent. I would book them again and plan to go back. They didn't know I was writing this post, so it makes me happy to talk about someone that loves their customers.
Fetheyi Turkey – Jerry's Boat Tour
Fortunately for me, I picked Jerry's Daily Boat Trip for a day Cruise in Southern Turkey. The boat trip is a highlight of my journey. The day was perfect, relaxed, great fresh food and the staff was outstanding. Five out of Five on trip advisor, my review is here. By the way, I am Capetownrio on trip advisor if you want to read my reviews.

Best Coastal Sightseeing in Southern Turkey
Jerry's Daily Boat Trip is the only one for me, and several of the guests were repeat customers, it worth it. There are other tours. But this one, is small, intimate the people were relaxed and fun and it was like joining a group of people I have always known. Best boat tour I have been on is Fetheyi Turkey – Jerry's Boat Tour!
We saw wildlife, hiked, fished, ate and hung out with their staff and guests! We did fun things on the boat – I hope this captures the fabulous experience.
This boat trip is one of my Favorite Trips. I would do it again in a heartbeat.

What I Did in Fetheyi
Aegean Soul-1 – Day Trips – for extended travel
Kayakoy – Ghost town
Hike the Lycian Way – hiked
Downtown Fethiye – it's a market as you will find in most Turkish towns, fun.
Pinara Antique City and Ancient Rock Tombs
Classic Yacht Club the location where 'Skyfall' the Movie was filmed hung out at James Bonds, get away bar.
Last Thoughts
I had a nice relaxing drink by the pool. The manager invited me to come back anytime, so I did. I enjoyed the view and relaxed by the pool. My hotel was a five-minute walk. I enjoyed my relaxing stay in Fethiye!
Our Fearless Leader