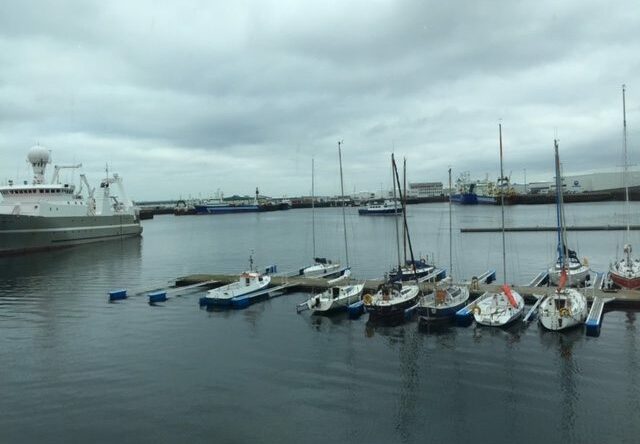 Jim Allen
Guest Feature
I loved Iceland – Regardless of the Cost
By
|
Hello, ladies and gents. Iceland is a place that will change you – it changed me. For a budget traveler, Iceland is challenging, and even though Northern Europe is quite expensive, one can fit Iceland into a travel budget that will not break the bank. I can't imagine anyone being more frugal than I am — if I can do it, so can you.
Icelandair, which I flew, serves many U.S. cities with nonstop service to Reykjavik, a city of about 200,000 souls.
Short Layover or Staying Awhile
Even if you don't intend on staying in Iceland, Icelandair provides a "stop over" service so you can explore Iceland before continuing to your final destination–check out their website. I left Seattle and seven hours later, my jet was touching down at Keflavik airport.
Five days in Iceland during the first week of June found me fishing, swimming and taking a tour into Iceland's interior. The Golden Circle tour will be the topic of another article. Iceland's airport is modern and efficient, and being a backpacker, I wasted no time leaving the concourse and getting a ticket at a kiosk for about 22 USD for the "Flybus." The bus was wifi equipped, so after a quick call home, I settled in and had a conversation with a lady who was working for the State Department in Russia. Even at midnight, it was quite surreal, as the sun was still kissing the horizon. In June, the sun barely dips below the horizon, and about three hours later, the sun begins to rise.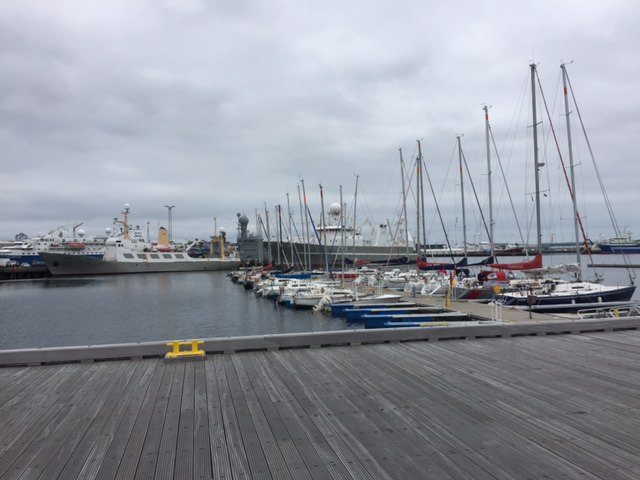 THE REYKJAVIK DOWNTOWN HOSTEL
About an hour later, my bus stopped at the Reykjavik bus station. Hmm. To me, not going straight to Reykjavik, wasn't right. The driver then announced for everybody to get off the bus and transfer to vans. The transfer was necessary because many of Reykjavik's roads in the downtown area are narrow and do not allow buses to transit. About twenty minutes later, I arrived at my hostel. I chose a hostel at Hostel World.com. I stayed at Reykjavik Downtown Hostel because it was a great value and I am frugal with my travel dollars. (about $45 USD/night) More importantly, the hostel was a great location. The hostel as a ten-minute walk to Reykjavik's Old Harbour area, the area I'd be visiting for a fishing trip the following day.
Check in was swift. I grabbed a bed in a dormitory and slept–well, I tried to. Being a fifty-something guy, I've learned that hostels are noisy places–bring earplugs. But, I was able to meet and talk to a few kids in their twenties. One, a kid from Spain, told me he was taking a month off to travel. I said, I was taking the rest of my life off to travel –we both laughed.
The hostel was clean and offered a typical hostel breakfast for about 15 USD–crackers, cheese, meats, coffee, and juice. Hey, I told you Iceland was expensive. Nevertheless, for my four nights in Iceland, I paid less than the average charge for one night at one of Reykjavik's typical tourist hotels.
SALTWATER FISHING FOR COD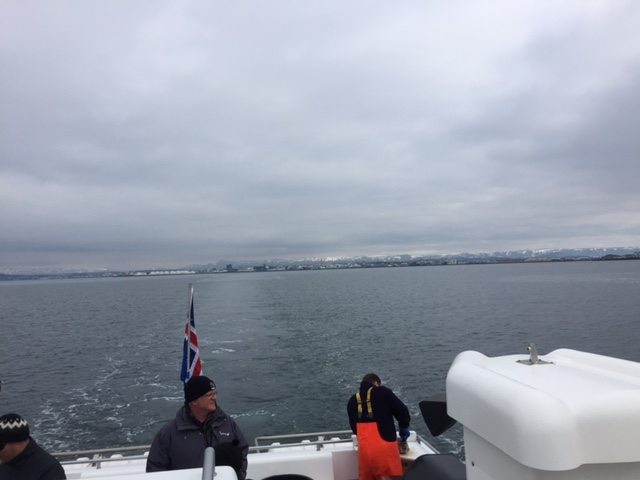 Everyone Loves to Fish – Don't They?
I'm an avid fisherman, and I know some women are too, so fisherpeople, always find an excuse to wet a line. Iceland was easy to find fishing spots because it's an island with plenty of lakes and streams.
I chose Special Tours Sea Angling from Reykjavik–I found them through TripAdvisor.
We departed the Old Harbor area at about 5:00 pm local time on a boat that was clean and powerful. Heading out the harbor, the captain gunned it, and we took off like a speedboat. About thirty minutes later, we stopped. We used cut squid and fished right off the bottom. I caught a bunch of cod, which we cooked on the boat by the crew. They provided a nice side of roasted potatoes and plenty of drinks.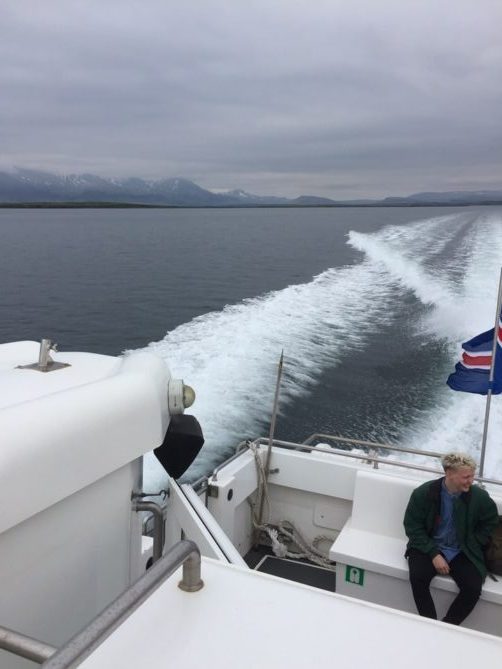 I had nice conversations with a couple of Icelandic teenagers, who, after learning that I was from Seattle, teased me by nicknaming me "foreigner." Northern Europeans are unassuming and quite friendly people. It's very easy to engage them in conversation, and it only makes the travel experience more enjoyable. I left the boat with a belly full of codfish and potatoes, and memories that will last a lifetime.
FISHING FOR ARTIC CHAR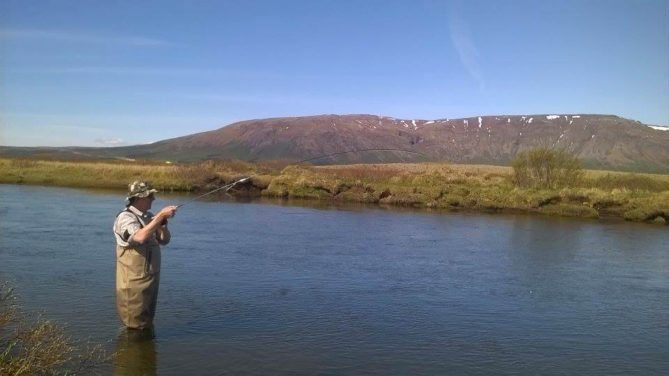 Next, I met Ari, a young, native Icelander with a mane of long blonde hair outside my hostel on a beautifully sunny June morning. Ari, my fishing guide, was going to teach me the art of fly fishing. Go-Fishing Iceland was my guide company–I found them through TripAdvisor.
We traveled about fifty kilometers east of Reykjavik in Ari's truck until we reached the River Hoala. The scenery en route was spectacular. Mountains, rolling plains and farms rushed by me. I quickly donned a pair of waders that the company provided, and grabbed my fly pole. We had trekked at least a mile down the river before Ari showed me the basics of a cast. Ari told me we would be "nymph-fishing," or using a fly, and casting it upstream of the fish. After a little practice, I was ready.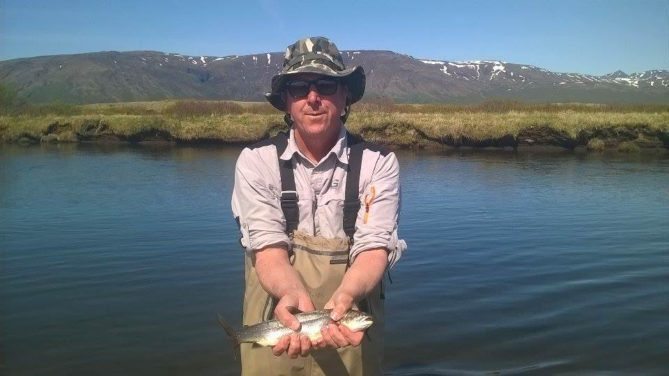 Ari stood on the bank, and as he saw a fish, asked me to cast where he was pointing. Seven hours later, I had hooked about five and landed by first Arctic Char. I held the fish in both hands and was literally shaking, as I had somehow managed to catch a Char on my first trip. I can't wait for the next time!
THE BLUE LAGOON
The Blue Lagoon was my final stop before flying out. I took the Grayline bus and paid about $20 USD for the transport from my hostel to the Blue Lagoon. After about an hour, and passing miles and miles of lava fields, we arrived.
Check in is simple. You get a towel and a wristband and then head to the locker room. Don, your bathing suit, take your shower, grab your towel, and RUN. The blast of cold air is bracing, but you soon submerge in the milky blue waters of the lagoon. A refreshing and relaxing experience, I could feel the alternating waves of geothermal hot water and cold seawater mixing to produce the perfect temperature. The cold wind, racing across the warm lagoon produced a thick steam that added to the pleasant experience.
After a couple of hours, I dressed and headed to the restaurant on premises, where I splurged on a fish lunch. I then boarded another bus, which took me to the airport for a short hop back to Seattle.
Travel Tips: During the high season, get your tickets for the Blue Lagoon before leaving home.
Copyright © 2020 Capetown-Rio, Inc. USA. All rights reserved. Republishing is allowed only with written permission. All photography rights on this page belong to Capetown-Rio, Inc. and the author. Do you have a question, business proposal, or speaking opportunity? Please contact me here.