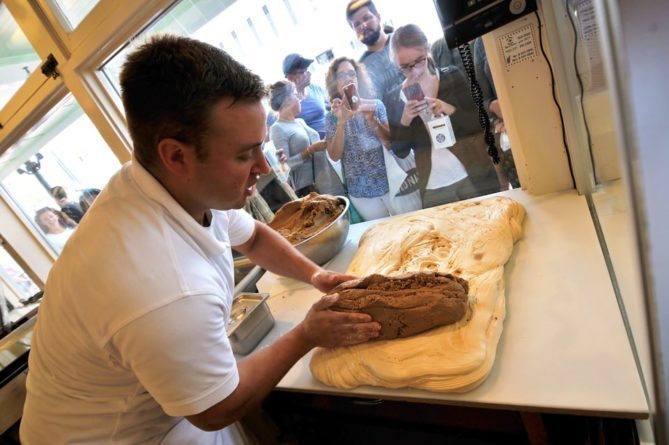 Maine
Back to the Past in Downtown York, Maine
By
|
York, Maine is a perfect place to vacation with your family. There are activities galore to keep you and your kids entertained. You don't have to venture far from downtown to see all York has to offer. After walking and sunbathing on Short Sands Beach, you can go to the arcade & bowling alley on the boardwalk. Don't forget to eat breakfast at Molly's, as we did. In the center of town, you will find Goldenrod. No trip is complete without sitting at the Goldenrod fountain. Make sure you take your time while you are there, and watch them make salt water taffy. You'll see how Salt Water Taffy made the real, old fashion way.
Family-Orientated Entertainment
Feed the Meters
Please be aware. Parking is an issue in this section of the town. The metered parking is everywhere, and NO ONE wants to give change. I think the tourist office should MAKE CHANGE, AND HELP THE TOURISTS FEED THE METERS! At least this way, they can keep the shop owners happy by keeping the visitor happy. After all, who wants to get a ticket while you are on vacation.
We started our day with a family reunion breakfast. The last time we had all been together was at my daughter's wedding. We ate at Mollyo's Resturant. The restaurant serves delicious breakfast food.  We thoroughly enjoyed several bowls of fresh fruit which were massive. The containers were huge and bigger than any of us had ever seen.
Family Time!
in 2018, Karen and her daughters came to meet our new grandbaby, Hudson. We had a perfect time. Hudson didn't eat the food but, I am sure he wanted to eat. He is a natural vegan by nature.
Short Sands Beach
On Short Sands Beach, we looked for a spot to take a family picture and roped a very nice, kind man to snap a shot of us.
My family went on to the activities of the day, and I went to walk around the town. The beach here is exquisite. If you are looking for hikes and other park activities are found on the York beach page. It's kept up-to-date, check back often for the latest news about York beach activities.
Check out Goldenrods Antique Fountain
Goldenrod is a flashback to old New England with an antique soda fountain. It reminds me of Cape Cod where I lived in the summertime for several years when I was a kiddo. It felt like I was back on Cape Cod when I walked in, but when I sat down at the antique fountain, it is a real flashback to my childhood. The staff is outstanding and handles the tourists, locals and all the demands of serving the public with honest hospitality. You will find exceptional service at this quaint restaurant and soda fountain.
Goldenrod – Salt Water Taffy store
Besides seeing my family, the best part of the day is watching the Goldenrod staff hard at work, serving customers with genuine pride and excellent service, and the candy men making the salt water taffy. Here is how they did it – most of all it seems the tourist love to watch the making of the taffy, as much as the staff likes to make the candy and serve it.
We are the lucky ones because we have the pleasure of eating the yummy salt water candy treats. If you can't go to York to taste their saltwater taffy and eat lunch at the soda fountain counter, then order some from their website. It's worth it! To order, click on Goldenrod fountain.
By the way, no one paid me or anything like that – these comments are straight from my heart. I have 'Invisalign's' in so I had to limit my candy intake, but, you can make up for what I missed out on, right!
Here is a travel tip:
Copyright © 2020 Capetown-Rio, Inc. USA. All rights reserved. Republishing is allowed only with written permission. All photography rights on this page belong to Capetown-Rio, Inc. and the author. Do you have a question, business proposal, or speaking opportunity? Please contact me here.