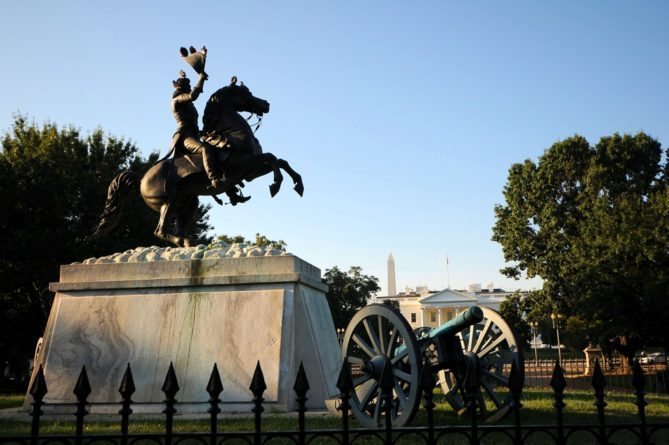 USA
Washington DC Top 5 Sites Walking Tour
By
|
Walking tours are one of my favorite things to do when I travel. During my recent trip to Washington DC, I walked one morning as dawn broke to see what I think is the best of DC. You can do my Washington DC Top 5 Sites Walking Tour in one day. Or you spend as much time as you want at each of the spots. When you are tired, take a break. Traveling isn't a speed test or endurance race, it's supposed to be relaxing. So go at your own pace, and enjoy the day!
You Set the Pace – My Washington DC Top 5 Sites Walking Tour
Pace yourself there are lots to see in Washington DC. Don't try to do it all in one day. (I had a crazy day doing it as fast as I did it.) I recommend Walking this at your own pace.
Starting Point
One place I didn't get to see was the US Bureau of Engraving and Printing tours. It's a fascinating tour. You need tickets so go early to 14th Street and get your tickets after 8:00 am each day. After all, who doesn't like to see a money factory? The ticket will give you entrance at a specific time, so you can see these sites and maybe finish at the US Bureau of Engraving and Printing tour.
#1 National Mall
The National Mall in Washington DC is easy to get to by Metro which I recommend doing. There are always things to do and see there; you can enjoy music, speeches, and National events. The National Mall is better known for the monuments. It is part of the National Parks system, established by President Theodore Roosevelt and in 2016 we celebrate the 100th anniversary of The National Parks system.
The Vietnam Veterans Memorial
Lincoln Memorial
Washington Monument
Korean War Memorial. Other great places to visit along the mall are:
Constitution Gardens
Franklin Delano Roosevelt Memorial
Jefferson Memorial
Martin Luther King, Jr. Memorial
World War II Memorial
#2 The White House
Blair House – this is where visiting Dignitaries stay while in DC
You will walk by Eisenhower Executive Offices – Vice Presidential Offices
#3 Andrew Jackson Statue
It is the location for one of the best photo shots in DC
#4 Smithsonian Museums
Renwick Gallery
See the Flight to National History to Fine Art at the many building
The National Zoo
#5 Arlington National Cemetery
Hope You like My Favorite Photos of My Favorite Spots
Jefferson Memorial
Washington Memorial
The Lincoln Memorial
The Korean Memorial
I picked this as one of my favorites because of my Uncle Bill, who served and never got the recognition he deserved, in a war that has never ended.
#2 White House
When I think of the White House, I think of three buildings. I think of it this way because I believe the office of the presidency is bigger than one person. I include the White House, Blair House the guest house to the White House and Eisenhower Executive Offices. All three are located within a few blocks of each other so look for all of them. If you want to take a tour of any of the buildings, you must get a ticket or ask your representative for a special admission pass and tour. The security is very high around all of these locations.
White House
Blair House
Eisenhower Executive Offices – Vice Presidential Offices
His home is not here. But, the Vice President's Residence located on the grounds of the United States Naval Observatory (USNO), the white 19th Century House at Number One Observatory Circle in northwestern Washington, D.C., was built in 1893.
#3 Andrew Jackson Statue
Across from the White House is a classic view. It is also the location for the cover shot for the post. I am listing Andrew Jackson's statue as one of the Washington DC's 5 Best Sites. It is the best site because people don't know about it and the view is nostalgic. This location is an American iconic look at our history because it captures out roots from the Civil War Statue, the White House, the American flag and the Washington Monument.
#4 Smithsonian Museums
It is hard to pick one photo to represent the entire Smithsonian because it is many buildings, housing many exhibitions. Even the National Zoo is part of the Smithsonian. Every part of the Smithsonian and all the many parts of the Smithsonian are remarkable from Flight to National History to Fine Art. I love art, so I picked Renwick Gallery. All of the Smithsonian's are free.
#5 Arlington National Cemetery
What Didn't Make the List and Why
The Capital is still under construction – but, hopefully, the renovation will be done by the Presidential inauguration.
The Library of Congress – you need a special pass to enter it from your representative
The Chambers of House of Representative – I am not happy with our representatives, so it's not on my list but, might make yours.
The Supreme Court – it's a little further to walk for my one-day walking tour, and I had to think about how to make it a one day walking tour. On other trips to DC, I have seen the Supreme Court. I started coming here with my father when I was ten years old. DC is the first place my dad took me on a vacation when my twin brother and sister were born and we had recently moved to Connecticut. I spent more time seeing the National Mall. But, I think its a must see.
I am glad I went. Believe me, when I say, my travel will keep going back to Washington DC Top 4 Sites and many others because every time I go to DC, I am inspired.
Walking Tour Directions
Smithsonian, Washington Monument, Lincoln Memorial: Get off at Smithsonian Metro Stop (on Blue line).
White House: Farragut West Metro Stop (on Blue line). You could also walk from the Smithsonian stop up 15th street.
Tidal Basin/Jefferson Memorial: Smithsonian Metro Stop (on Blue line). Go at sunrise, its beautiful light and not as hot.
National Building Museum: Gallery Place/Chinatown metro stop (Yellow line). On F and 5th street. They do cool exhibits. This summer is icebergs.
Georgetown: Rosslyn Metro Stop (Blue line), there is a circulator bus that will take you across the bridge to Georgetown or you can walk.

Visit Baked and Wired for great cupcakes,
See the movie location for the Exorcist stairs,
Walk the C&O canal towpath

Meridian Hill Park – U Street Metro Stop (Yellow line) 15th and W Street. Lovely, picturesque park.
Copyright © 2020 Capetown-Rio, Inc. USA. All rights reserved. Republishing is allowed only with written permission. All photography rights on this page belong to Capetown-Rio, Inc. and the author. Do you have a question, business proposal, or speaking opportunity? Please contact me here.