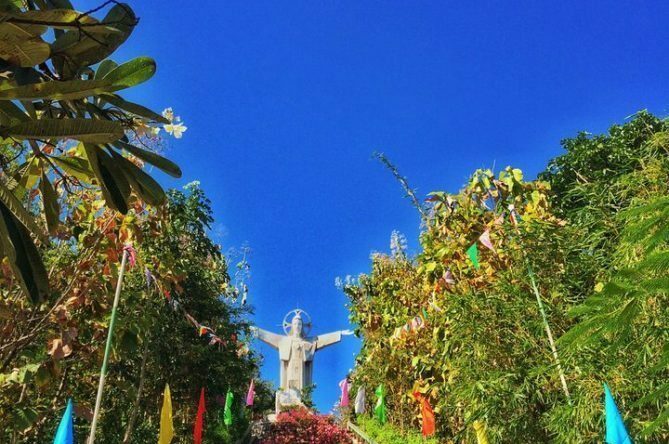 KC SOWERS
Guest Feature
Six days in Ho Chi Minh
By
|
I know we have both talked about this a lot. Walking down one block, there was whiff of garbage, fresh fruit, fish, and barbecue.  It's unforgettable. The city is busy, more modern compared to Hanoi in the north. Hanoi smelt like strange new smells of food and exotic scents compared to Ho Chi Minh's whiffs of this and that.
Arriving Early from Sa Pa's Overnight Train the day starts very early. Because of this Ho Chi Minh is a good starting point for regional tours and day trips to other parts of Vietnam. Here are photos of the places we saw.
Six Days in Ho Chi Minh Is Too Much Time In This Location
For our six days in Ho Chi Minh, when trying to figure out where to stay, we opted for a place central to the largest market in the town as that is where the most action is.  We initially planned on staying in the city for a few days since we planned on going to a resort in Mui Ne, which is about 5 hours south of Ho Chi Minh. But, we figured out it was in a higher-risk malaria zone, and as a 5-month pregnant lady, it wasn't worth the risk. That meant changing up our plans and staying the last six days of our trip in Ho Chi Minh. Try and get to the resorts we wish we had.
Here is a tour for six days in Hanoi
Ho Chi Minh Weather
Ho Chi Minh was hot! We learned that the weather only varies about 3-4 degrees the entire year, and the forecast during our stay was a high of 95 degrees almost every day. Since we had so much time in the city, and it was ungodly hot, we didn't feel rushed to see everything right away. Plus, since our hotel had a pool, we wanted to be able to take full advantage of some relaxation.
Cheap Taxi Rides
Within the city, there are tons of temples and pagodas to see, so we made that part of our mission. Some are located right in the middle of the city, between modern office buildings, which makes quite the juxtaposition.  Others are on the outskirts of the city or city lakes. Ho Chi Minh is much bigger than Hanoi, so taxis were necessary to get around depending on where you were going. Anything longer than a 30 min walk we took a taxi cab, it was just too hot to walk.
Free Guided Tour
Upon a recommendation from some travelers we met at our hotel in Hanoi, we scheduled a free, guided half-day tour with some local students who were practicing their English. We walked through the market, to the Notre Dame Cathedral, post office, and the War Remnants Museum. It was a great way to get our bearings in a new city and see some of the major sights with locals. What did we learn? Everyone loves How I Met Your Mother in Vietnam.
The Cu Chi Tunnels are about 2-2.5 hours from the center of Ho Chi Minh. There are tons of options when it comes to tours, but in the end, we opted to pay extra and just hire a driver from the hotel to drive us to and from the tunnels. Having extra time allowed us to take our time, visit BOTH tunnel locations, and we weren't forced to do any additional activity that typically comes with going on a tour. Yes, it was much more expensive than going on a set tour, but it gave us more freedom as far as when we were able to leave.
Which is Best?
After reading up about the two tunnel locations, we learned that one tour was geared towards tourists, the other was more legitimate because that was where locals would visit and the tunnels were from the war, not made after the fact. What we didn't realize, however, was that the tours at each place were more or less the same. So it wasn't worth going to both. In retrospect, we would go to the tunnels that are supposedly less touristy since the tour guides spoke better English.
Vietnamese Perspective
Going to the War Remnants Museum and Cu Chi Tunnels was fascinating to see from an American perspective. The exhibits always reminded that we 'the Americans' were the enemy and the Vietnamese continually outsmarted us throughout the whole war. The history and facts were incredibly one-sided, emphasizing the atrocities that the American's inflicted while brushing over anything the Vietnamese did. I guess that is the benefit of winning the war, but it was a little unsettling.
Six Days
Six days in Ho Chi Minh City includes a trip to Vung Tau for a Day trip. Since we couldn't go to the resort area of Mui Ne, we chose to visit Vung Tau for a day trip. It is only a 90-minute hydrofoil ferry trip from Ho Chi Minh and has several beaches to see. There was no need to buy tickets ahead of time; we just arrived 45 minutes before the first boat left. There are a couple of beaches in Vung Tau to choose from, and we chose back beach since it had more amenities like restaurants and bathrooms. We walked the beach, found a set of chairs under some tropical umbrellas, and set up shop.
Was it the most beautiful beach I have ever been to? Nope. 
But the water was warm, the beach wasn't crowded, and the chairs only cost us $5 all day. And since we couldn't go to the more famous and picturesque beaches in Vietnam, we made it work. In retrospect, we wouldn't have bought a round trip or return tickets in Ho Chi Minh. We got done with our beach time early. It would have been nice to go straight back to the city when we wanted to go. We missed the second to last ferry by 30 minutes and had to wait for an hour and a half for our reserved seat on the Vung Tau Ferry. Not a big deal, but there isn't much to do in Vung Tau other than lay out at the beach.
Six Days in Ho Chi Minh City – Definitely Don't Go That Long
Overall, six days in Ho Chi Minh City was worth the visit. You don't need six days to see everything, and by the last day, we were ready to say goodbye. But having a longer stay meant we didn't have to rush and could spread out our activities. It gave more leisure time that was nice to have at the end of a two-week trip, so you don't go home completely exhausted and in need of a vacation from your vacation.
We could stay six days in Hanoi, but three is good for most travelers.
Copyright © 2020 Capetown-Rio, Inc. USA. All rights reserved. Republishing is allowed only with written permission. All photography rights on this page belong to Capetown-Rio, Inc. and the author. Do you have a question, business proposal, or speaking opportunity? Please contact me here.